You are previewing:

Money While You Play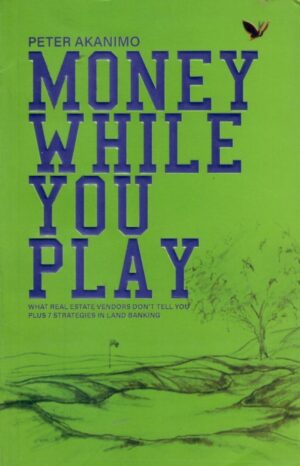 Money While You Play
Money While You Play
Land is the all-time single most important platform for generational wealth creation and transfer. Real estate is one of the numerous businesses crafted from land. Unfortunately, what most real estate investors know is to buy and develop residential apartments and then wait for 25 years to get their capital out. If price changes at the rate of 30% each year, then it means that they will lose or miss 750% value appreciation in at least 25 price movements. That is not a smart idea. Is it?
Moreover, many real estate investors often experience liquidity squeeze − their cash is often tied up in properties when they are in need. Some others miss the opportunities of starting their real estate business because they think that they require cash. In Money While You Play, you shall not only discover how to get started with little or nothing, you shall also learn to demand your payback in a short term not more than 3 years. If you ever used or intend to use land or property in your lifetime, then you cannot ignore the fact that you need to understand the real estate business structure.
The information presented here both exposes you to this structure and demonstrates various strategies of land banking that can be used in becoming very rich in 10 years or less. You shall also discover how to remain liquid as a real estate investor and deal securely without leaving your job if you have any. This book contains what real estate vendors desperately want to keep away from you as long as possible. It contains what they do not teach in school. It contains how to get rich using real estate as your core strategy with examples of those who did.
Your knowledge of them not only minimizes risk in real estate investment, but keeps you intuitively alert and smart on the best ways of making your money reproduce its best for you, thereby enabling you to retire rich and powerful. Finally, you shall be introduced into the consciousness of the power of technology as a foremost tool in executing real estate systems in the 21st century marketplace − the future. So, before you buy land or invest another money in the ones you already have, read this book.
₵60.00
Out of stock
SKU:

BK4801
Categories: African Authors, Author Origin, Business Culture, Business Life, Business, Finance & Law, Career, Company Profiles, Economics, Nigeria, Personal Finance, Processes & Infrastructure, Small Business & Entrepreneurship
Tags: business, Entrepreneurship, Guide to Investing, Guide to Investment, Investment, Money while you Play, Peter Akanimo, Real Estate Business
Customers Also Bought These