You are previewing:

Cat and Mouse in a Haunted House (Geronimo Stilton #3)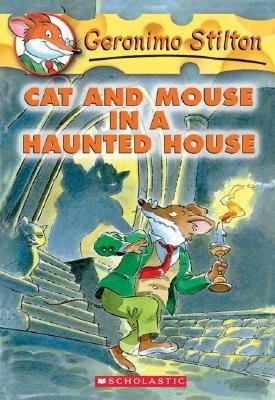 Cat and Mouse in a Haunted House (Geronimo Stilton #3)
Cat and Mouse in a Haunted House (Geronimo Stilton #3)
Age Range: 7 – 12 years
Who Is Geronimo Stilton?
That's me! I run a newspaper, but my true passion is writing tales of adventure. Here on Mouse Island, my books are all best-sellers! What's that? You've never read one? Well, my books are full of fun. They are whisker-licking good stories, and that's a promise!
I was lost in a dark, spooky forest! Until I stumbled upon Curlypaw Cannycat's Castle. The castle was completely empty, or so I thought. But I quickly discovered that it was haunted – by cats! Let me tell you, this was one case where curiosity almost killed the mouse!
₵50.00
Only 2 left in stock
A pseudonym of Elisabetta Dami, aka Thea Stilton.
Elisabetta Dami is an Italian author that currently resides in Italy. She is the author of the Geronimo Stilton series, a bestselling children's book. She enjoys traveling the world seeking ideas for her series. She writes under a pseudonym of Geronimo Stilton. She is also a co-owner of Italian based publishing company Edizioni Piemme. Her books have been translated into English by Scholastic Inc.