You are previewing:

Entertainment Night (Senior High School Days #5)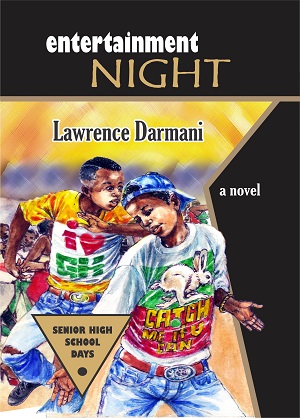 Entertainment Night (Senior High School Days #5)
Entertainment Night (Senior High School Days #5)
If the entertainment prefect thinks his idea of amusement will please every student, he is sadly mistaken.
Asamoah doesn't see any amusement in what the prefect has in mind, despite the loud publicity of the coming event. To him real entertainment must be vigorous, shake the bones, and draw sweat – not this boring thing everybody is talking about.
So while the other students are enjoying themselves, Asamoah sneaks out of campus to the Beach Front in a wild quest for proper amusement.
But, if what goes on at the Bach Front is so great, why does Asamoah run back to school so fast? And what is his picture doing on the front page of the newspaper?
By the time Asamoah discovers that the school entertainment is not bad after all, it is too late for him to undo what has been done.
₵25.00
Available on backorder
SKU:

BK843
Categories: 9-12 years, African Authors, African Novels, Age Range, Author Origin, Beginner Readers, Best Seller, Career, Children & Teens, Contemporary Fiction, Ghana, Literary Fiction, Literature & Fiction, Novels, Teens
Tags: Entertainment Night, Lawrence Darmani, Senior High School Days
Lawrence Darmani is a Ghanaian novelist and publisher. His first novel, Grief Child, won the Commonwealth Writers' Prize as best first book from Africa. He is editor of Step magazine, and CEO of Step Publishers. He also writes devotional articles for Our Daily Bread, which touches the lives of many Christians around the world.
He is married and lives in Accra with his family. Lawrence enjoys church life and volunteers at other Christian ministry activities. He says that he derives writing ideas "out of personal experiences, reading, testimonies, and observing the world around me."
Customers Also Bought These