You are previewing:

How To Start Small: Financial Skills For Business Success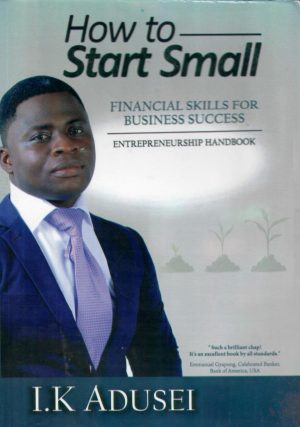 How To Start Small: Financial Skills For Business Success
How To Start Small: Financial Skills For Business Success
How To Start Small reveals gripping real-life entrepreneurial strategies, lessons and insight which continue to elude business start-ups the world over. It presents an easy step by step approach to guide readers of all ages on well-tailored proven success methods on access to capital, human resource management, marketing and sales, business growth strategies as well as top business management practices.
Are you interested in starting your own business? Are you a business owner looking for new ways to expand your business? Do you want to take a jump from employee to business owner? This book is as easy as reading the alphabets.
₵35.00
Only 2 left in stock
SKU:

BK5545
Categories: African Authors, Author Origin, Budgeting & Money Management, Business Culture, Business Life, Business, Finance & Law, Career, Career Planning & Job Hunting, Ghana, Motivational & Self-Help, Personal Finance, Self-Help, Small Business & Entrepreneurship, Venture Capital
Tags: ABN Communications, business, Entrepreneurship, How To Start Small: Financial Skills For Business Success, I.K Adusei, Personal Finance, Startup
I.K Adusei is a serial Entrepreneur and Corporate Trainer. He is a generational game changer, Founder and CEO of The ABN Organization, a holding company with interest in real estate, multimedia, retail and commerce.
As a streetwise entrepreneur, he took delight in economics in his Senior High School days at Prempeh College, Ghana, and went ahead to study Spanish, Phycology and Political Science in University of Ghana to widen his world view and give him a cutting edge appreciation of life and business across various disciplines. His first book From Nowhere To Somewhere was reviewed live on Ghana Television (GTV) in 2013 at the age of 24 and went ahead to make several thousands in sales, resulting in an unprecedented global demand. He is husband to Mavis a passionate Pharmacist (Pharm D) and mother of his adorable children.
Customers Also Bought These