You are previewing:

Appetite for Wealth: Taste of Fulfillment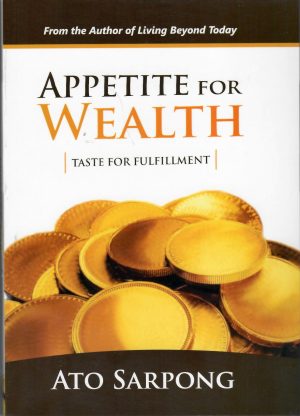 Appetite for Wealth: Taste of Fulfillment
| | |
| --- | --- |
| Weight | 0.400 kg |
| ISBN | 9789988218416 |
| Year Published | 2015 |
| Page Count | 177 |
| Author | Ato Sarpong |
| Publisher | Ato Sarpong |
Related Products
Customers Also Bought These
Appetite for Wealth: Taste of Fulfillment
Recently I have observed with amazement the rate at which today's youth have made money the reason for their existence. Greed, envy, jealousy, anger and pain have engulfed the world as a result of money. Society no longer cares about how people make their money. Honesty and integrity are thrown to the dogs. In these difficult times, the desire for personal fulfillment must be the driver of our decisions, not money and wealth. Contentment is the key that opens the gate to fulfillment. This book is born out of my personal experiences, insight and intelligence gained while working, walking and studying at the feet of giants.
Writing in simple language with his readers in mind, Ato shares in this book that money is only important as a servant, and no matter where you are, you can take practical steps to create and command wealth. It is through our greatest struggles, pains, fears, insecurity, roadblocks and challenges that opportunities for wealth creation show up.
Ato takes the reader on a journey towards wealth and fulfillment and shares inspirational and challenging stories that should motivate the reader to action.
₵30.00
Available on backorder
SKU:

BK5577
Categories: African Authors, Author Origin, Bible Study & Reference, Christian Books & Bibles, Christian Living, Ghana, Inspirational, Personal Growth, Religion & Spirituality
Tags: APPETITE FOR WEALTH – Taste of Fulfillment, Ato Sarpong, Believer, Christianity, Edge Publishers, Faith, Inspirational, Life Transforming
| | |
| --- | --- |
| Weight | 0.400 kg |
| ISBN | 9789988218416 |
| Year Published | 2015 |
| Page Count | 177 |
| Author | Ato Sarpong |
| Publisher | Ato Sarpong |
Ato Sarpong is an accomplished Chartered Accountant and a Business and Leadership Consultant. He is a passionate teacher and speaker on Leadership, Personal and Business Growth. He is also a lecturer in Entrepreneurship and Financial Management.
He is an experienced and respected business leader with extensive knowledge in information Communication Technology, Financial Management, and Business Management. An expert in reviving ailing businesses, he has in recent years, been in the business of guiding individuals and corporate organisations to identify and craft their purpose, vision and value; pursue their dreams; and develop winning strategies for growth and success.
Ato lives in Accra, Ghana, with his wife and their three children.
Customers Also Bought These