You are previewing:

LIVING BEYOND TODAY – Living Principles For Success Tomorrow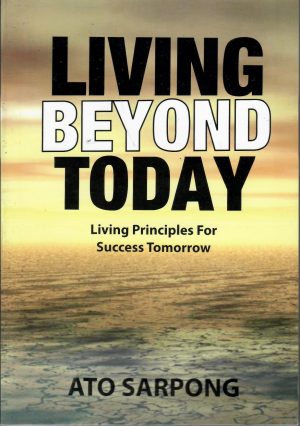 LIVING BEYOND TODAY – Living Principles For Success Tomorrow
Related Products
Customers Also Bought These
LIVING BEYOND TODAY – Living Principles For Success Tomorrow
Living Beyond Today is the result of a decade of research and personal experiences. In this book, Ato Sarpong charts a compelling path to your desired destination and freedom. He shares insights that help readers understand that respect for the future is demonstrated by a healthy insensitivity to the past.
Readers will learn that life is the result of choices: to pursue your dream and achieve success, you need to be courageous, you must overcome fear, and you must face the future with enthusiasm. Through this book, Ato teaches that decisions shape destiny. To be an achiever, you have to be short in words, deep in thought, and heavy in action. This book is not about theories. Apart from writing about his personal successes, Ato has written about his mistakes and failures, and how he overcame them.
Inspired by his audiences, and writing in simple language for all readers, Ato offers insight into a well-researched and well crafted solution to success.
Living Beyond Today is packaged in three parts:
The six empowerment principles that impact behaviour and action
The five enablers of life that influence thought, focus and direction
The seven enrichment laws that drive results and shape destiny.
This is an inspirational book full of stories and practical steps that should challenge readers to reconsider their current state and make a start on the journey to wealth, happiness and joy.
₵35.00
SKU:

BK5576
Categories: African Authors, Author Origin, Bible Study & Reference, Christian Books & Bibles, Christian Living, Ghana, Inspirational, Personal Growth, Religion & Spirituality
Tags: Ato Sarpong, Believer, Christianity, Edge Publishers, Faith, Inspirational, Life Transforming, LIVING BEYOND TODAY – Living Principles For Success Tomorrow
Ato Sarpong is an accomplished Chartered Accountant and a Business and Leadership Consultant. He is a passionate teacher and speaker on Leadership, Personal and Business Growth. He is also a lecturer in Entrepreneurship and Financial Management.
He is an experienced and respected business leader with extensive knowledge in information Communication Technology, Financial Management, and Business Management. An expert in reviving ailing businesses, he has in recent years, been in the business of guiding individuals and corporate organisations to identify and craft their purpose, vision and value; pursue their dreams; and develop winning strategies for growth and success.
Ato lives in Accra, Ghana, with his wife and their three children.
Customers Also Bought These