You are previewing:

Sales Management. Simplified: The Straight Truth About Getting Exceptional Results from Your Sales Team (Hardcover)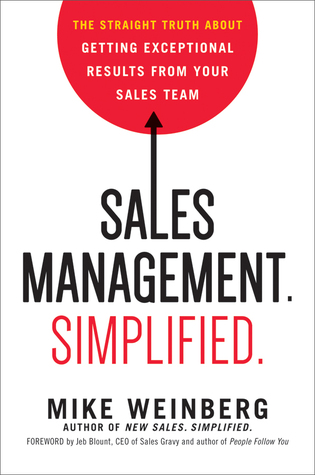 Sales Management. Simplified: The Straight Truth About Getting Exceptional Results from Your Sales Team (Hardcover)
Related Products
Customers Also Bought These
Sales Management. Simplified: The Straight Truth About Getting Exceptional Results from Your Sales Team (Hardcover)
Because managing sales doesn't have to be so complicated.
Why do sales organizations fall short? Every day expert consultants like Mike Weinberg are called on by companies large and small to find the answer – and it's one that may surprise you. Typically the issue lies not with the sales team – but with how it is being led. Through their attitude and actions, senior executives and sales managers unknowingly undermine performance.
In Sales Management. Simplified. Weinberg tells it straight, calling out the problems plaguing sales forces and the costly mistakes made by even the best-intentioned sales managers. The good news: With the right guidance, results can be transformed. Blending blunt, practical advice with funny stories from the field, this book helps you:
Implement a simple framework for sales leadership
Foster a healthy, high-performance sales culture
Conduct productive meetings
Create a killer compensation plan
Put the right people in the right roles
Coach for success
Retain top producers and remediate underperformers
Point salespeople at the proper targets
Sharpen your sales story
Regain control of your calendar
And more
Long on solutions and short on platitudes, Sales Management. Simplified. delivers the tools you need to succeed.
Mike Weinberg loves sales! He is a consultant, coach, speaker, and best-selling author. His specialities are new business development and sales management, and he's on a mission to simplify sales and create high-performance salespeople and sales teams. Mike is known for his blunt, practical approach and that he calls it like he sees it. He works with companies in all industries ranging in size from a few million to many billions of dollars and has spoken and consulted on five continents.
His latest book, Sales Truth: Debunk the Myths. Apply Powerful Principles. Win More New Sales., releases June 11, 2019 from HarperCollins Leadership. In her endorsement, sales guru Andrea Waltz, co-author of Go for No, says that Sales Truth is likely the first sales book that will make you gasp! Mike pulls no punches as he takes on many of the popular myths and half-truths damaging sales performance today. Anthony Iannarino summed it up well: "It is rare that a book speaks a truth so strongly and so clearly that it defines an era. Sales Truth is that book."
Mike was the #1 producer in three different companies before launching his consulting practice, and he has been named a Top Sales Influencer by Forbes, OpenView Labs, and several other publications. His first book, New Sales. Simplified. - The Essential Handbook for Prospecting and New Business Development became a #1 Amazon Best-Seller and spent a year as the #1 top-rated book in its category, has been named the #3 Most-Highly Rated Sales Book of All-Time (by HubSpot). When 300 sales experts were asked to name one book every salesperson should read, New Sales. Simplified. was a top-5 response.
Mike's second book, Sales Management. Simplified. - The Straight Truth About Getting Exceptional Results from Your Sales Team has been called "arguably the greatest book ever written on sales management," and "an unequaled blueprint for leading salespeople and building high-performance sales teams," and named the #1 book every sales manager should read (Inc. magazine).
A transplanted New Yorker, Mike has called St. Louis home for more than 25 years. He says his wife Katie is still the best proof that he really can sell, and he's a STL Cardinals, NY Pizza and Porsche 911 fan.
You can follow Mike on twitter and instagram at @mike_weinberg and his website and blog can be found at mikeweinberg.com.
Customers Also Bought These