You are previewing:

Key to True and Lasting Success: A Practical Guide to Successful Living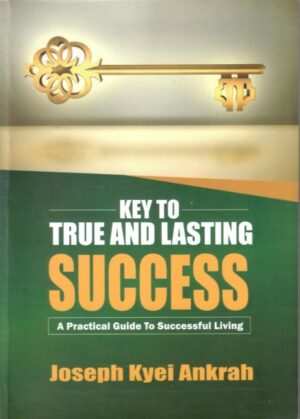 Key to True and Lasting Success: A Practical Guide to Successful Living
Key to True and Lasting Success: A Practical Guide to Successful Living
Looking for a book with power to jump-start your life? Look no further. Ankrah's key to true and lasting success will be your strategic partner to get you to your prophetic place in life. You will learn more ideas, concepts, principles and methods used by successful people in the world. You will immediately become self-confident and begin to think that success is not the preserve for the special people.

The step-by-step approach for successful living presented in this book include proven concepts drawn from business, religion, economics, psychology and everyday life. These concepts are combined in a fast-moving, informative series of steps that will lead you to greater success than you ever imagine possible. They can improve your human relationship, health and financial situation.
₵25.00
SKU:

BK3791
Categories: African Authors, Author Origin, Budgeting & Money Management, Business Culture, Business Life, Business, Finance & Law, Career, Career Planning & Job Hunting, Communication & Social Skills, Ghana, Management & Leadership, Motivational & Self-Help, Personal Finance, Professional Development, Self-Help, Skills, Small Business & Entrepreneurship, Success, Time Management, Venture Capital
Tags: Joseph Kyei Ankrah, Key to True and Lasting Success: A Practical Guide to Successful Living, Personal Finance, Startup
Joseph Kyei Ankrah is a brilliant author, publisher, conference speaker, corporate trainer, financial consultant, entrepreneur and public servant. He currently works with Ghana Revenue Authority and is the CEO of Bridge of Hope Ltd. He has written over eight personal finance and business-related books.
He holds a first degree in Economics, Diploma in Tax administration, MBA in Finance, and is a member of the Chartered Institute of Accountants-Ghana.
Customers Also Bought These