You are previewing:

Bookset: Bestselling Illustrated Classics (9 books)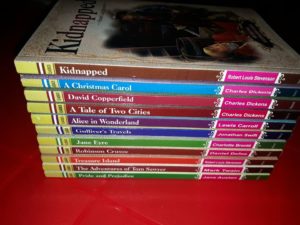 Bookset: Bestselling Illustrated Classics (9 books)
Related Products
Customers Also Bought These
Sale!
Bookset: Bestselling Illustrated Classics (9 books)
Age Range: 6 – 12 years
A pack of some of the Classics that have endured over the years and which kids love to bits! Illustrated with eye-catching drawings, this pack is just what you need to introduce your young one to these Classics.
This bookset includes:
Kidnapped
A Christmas Carol
David Copperfield
A Tale of Two Cities
Alice in Wonderland
Gulliver's Travels
Jane Eyre
Robinson Crusoe
Treasure Island
The Adventures of Tom Sawyer
₵180.00
Out of stock
SKU:

BS59
Categories: 9-12 years, Action & Adventure, Action & Adventure, Age Range, Ages 6-8 years, Author Origin, Best Seller, Children & Teens, Children Classics, European Authors, Illustrated books, Literature & Fiction, Promos & Bundles, Teens, Young Reader
Tags: Bestselling Illustrated Classics, Bundles, Charles Dickens, Charlotte Bronte, Classics, Daniel Defoe, Jonathan Swift, June Austen, Lewis Carroll, Mark Twain, Promos, Robert Louis Stevenson
Customers Also Bought These