You are previewing:

Bookset: Courtesy & Manners Guidebooks for Boys and Girls (5 books)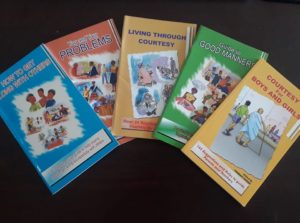 Bookset: Courtesy & Manners Guidebooks for Boys and Girls (5 books)
Related Products
Customers Also Bought These
Sale!
Bookset: Courtesy & Manners Guidebooks for Boys and Girls (5 books)
Age Range: 7 years and above
Most of us were trained with Courtesy for Boys & Girls as a guidebook. Fundamental rules of courtesy for young people, rules on behaviour; much more needed today! Now, you can have four other books in this series as a bookset.

These books are adapted from up-to-date fundamental rules of courtesy as they apply to young people of today and list for the guidance of parents and teachers rules on a gracious refinement of behaviour. They teach young readers how to be courteous in their everyday lives and how effective it can be, how to be polite and have good manners, and how to get along with others.
A great set of books to use to engage young people on matters of manners.
₵75.00
Out of stock
SKU:

BS48
Categories: 9-12 years, African Anthropology, African Authors, Age Range, Ages 3-5 years, Ages 6-8 years, Author Origin, Basic Concepts, Beginner Readers, Children & Teens, Communication & Social Skills, Cultural Studies, Early Childhood Education, Education & Teaching, Explore the World, Family, Family & Lifestyle, Friendship, Geography & Cultures, Ghana, Growing Up & Facts of Life, Illustrated books, Interpersonal Relations, Parenting & Relationships, Promos & Bundles, Reference, Relationships, Skills, Young Reader
Tags: Adaex Educational Publications, Barbara Eghan, Bundles, Christiano Birago, Courtesy, Hannah Hagan, K. A. Abedi, Manners, Promos, Sophia Manu
Customers Also Bought These