You are previewing:

Bookset: Ladybird Grammar Workbooks 1 – 6 and Ladybird Dictionary (7 books)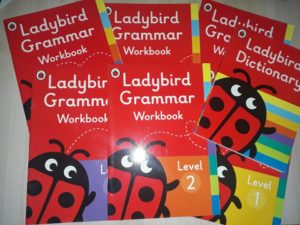 Bookset: Ladybird Grammar Workbooks 1 – 6 and Ladybird Dictionary (7 books)
Bookset: Ladybird Grammar Workbooks 1 – 6 and Ladybird Dictionary (7 books)
Age Range: 4 – 11  years
Ladybird Grammar Workbooks will help young learners aged 4+ to understand and practise the basics of English Grammar. These books are carefully graded and help children prepare for the 'Cambridge English: Young Readers' exams.
The Ladybird Dictionary will help young learners 4 – 11 to find and understand words in English. This engaging dictionary is informed by the Cambridge Young Learners word lists, and features an introduction on how to use the dictionary, an A-Z section, and a picture dictionary at the back.
₵135.00
Out of stock
SKU:

BS45
Categories: 9-12 years, Activities, Crafts & Games, Activity book, Age Range, Ages 3-5 years, Ages 6-8 years, Basic Concepts, Beginner Readers, Children & Teens, Children Classics, Dictionaries & Thesauruses, Early Childhood Education, Education & Teaching, Illustrated books, Pre-school, Promos & Bundles, Reference, Workbooks, Writing, Young Reader
Tags: Anna Osborn, Bundles, Claire Ransom, Classics, Dictionaries, Ladybird, Promos, Read It Yourself
Ladybird brings together characters from well-loved children's TV shows, including Peppa Pig, In the Night Garden, Ben and Holly, and the lively twosome Topsy and Tim; plus a whole host of fairy-tale favorites like Cinderella and Pinocchio. Whether they're discovered through snuggly bedtime favorites, buggy books that accompany adventures, or fun apps for playtime, really great stories open up whole new worlds and spark imagination, creativity, and curiosity.