You are previewing:

Ladybird Bookset: The Basics – First Skills and Key Words Series (41 titles) – Hardcover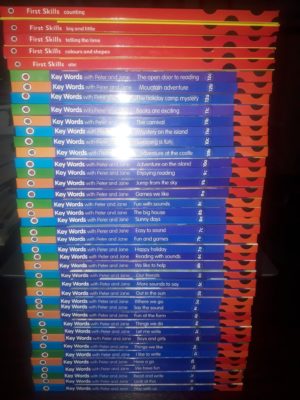 Ladybird Bookset: The Basics – First Skills and Key Words Series (41 titles) – Hardcover
Sale!
Ladybird Bookset: The Basics – First Skills and Key Words Series (41 titles) – Hardcover
This promo set includes the 5 books in the First Skills Ladybird series and the 26 books in the Key Words with Peter and Jane set (Books 1a, 1b, 1c to12a, 12b, 12c).
Titles in this set are:
First Skills: ABC
First Skills: Counting
First Skills: Colours and Shapes
First Skills: Telling the Time
First Skills: Big and Little
Key Words with Peter and Jane 1 – 12 (each level has a, b and c)
₵902.00
Available on backorder
SKU:

BS42
Categories: Activities, Crafts & Games, Activity book, Age Range, Ages 3-5 years, Alphabet, Baby - 2 years, Basic Concepts, Children & Teens, Children Classics, Early Childhood Education, Education & Teaching, Illustrated books, Pre-school, Promos & Bundles, Size & Shape, Workbooks, Young Reader
Tags: Bundles, Classics, First Skills, Key Words With Peter and Jane, Ladybird, Promos
Ladybird brings together characters from well-loved children's TV shows, including Peppa Pig, In the Night Garden, Ben and Holly, and the lively twosome Topsy and Tim; plus a whole host of fairy-tale favorites like Cinderella and Pinocchio. Whether they're discovered through snuggly bedtime favorites, buggy books that accompany adventures, or fun apps for playtime, really great stories open up whole new worlds and spark imagination, creativity, and curiosity.