You are previewing:

This is Marketing: You Can't Be Seen Until You Learn To See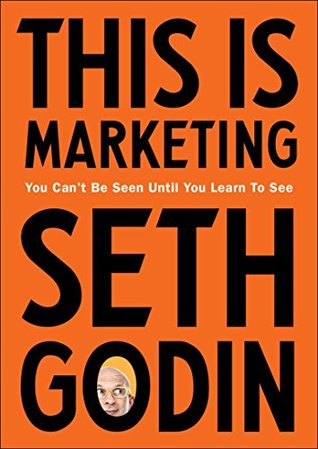 This is Marketing: You Can't Be Seen Until You Learn To See
This is Marketing: You Can't Be Seen Until You Learn To See
#1 Wall Street Journal Bestseller
Instant New York Times Bestseller
A game-changing approach to marketing, sales, and advertising. 
Seth Godin has taught and inspired millions of entrepreneurs, marketers, leaders, and fans from all walks of life, via his blog, online courses, lectures, and bestselling books. He is the inventor of countless ideas that have made their way into mainstream business language, from Permission Marketing to Purple Cow to Tribes to The Dip.
Now, for the first time, Godin offers the core of his marketing wisdom in one compact, accessible, timeless package. This is Marketing shows you how to do work you're proud of, whether you're a tech startup founder, a small business owner, or part of a large corporation.
Great marketers don't use consumers to solve their company's problem; they use marketing to solve other people's problems. Their tactics rely on empathy, connection, and emotional labor instead of attention-stealing ads and spammy email funnels.
No matter what your product or service, this book will help you reframe how it's presented to the world, in order to meaningfully connect with people who want it. Seth employs his signature blend of insight, observation, and memorable examples to teach you:
How to build trust and permission with your target market
The art of positioning–deciding not only who it's for, but who it's not for
Why the best way to achieve your goals is to help others become who they want to be
Why the old approaches to advertising and branding no longer work
The surprising role of tension in any decision to buy (or not)
How marketing is at its core about the stories we tell ourselves about our social status.
You can do work that matters for people who care. This book shows you the way.
₵85.00
Out of stock
SKU:

BK2132
Categories: Best Seller, Business Culture, Business Life, Business, Finance & Law, Economics, Leadership, Management & Leadership, Marketing & Sales, Small Business & Entrepreneurship, Strategic Planning, Strategy
Tags: HBR Must Reads, Management
Seth Godin is the author of nineteen international bestsellers that have been translated into over 35 languages, and have changed the way people think about marketing and work. For a long time, Unleashing the Ideavirus was the most popular ebook ever published, and Purple Cow is the bestselling marketing book of the decade.
He's a recent inductee to the Marketing Hall of Fame, and also a member of the Direct Marketing Hall of Fame and (go figure), the Guerrilla Marketing Hall of Fame.
His book, Tribes, was a nationwide bestseller, appearing on the Amazon, New York Times, BusinessWeek and Wall Street Journal bestseller lists. It's about the most powerful form of marketing--leadership--and how anyone can now become a leader, creating movements that matter.
His book Linchpin came out in 2008 and was the fastest selling book of his career. Linchpin challenges you to stand up, do work that matters and race to the top instead of the bottom. More than that, though, the book outlines a massive change in our economy, a fundamental shift in what it means to have a job.
Since Linchpin, Godin has published two more books, Poke the Box and We Are All Weird, through his Domino Project. He followed these with The Icarus Deception via Kickstarter, which reached its goal in less than three hours. Joined by Watcha Gonna Do With That Duck and V is for Vulnerable, those books are now widely available. In late 2014, he announced his latest, What To Do When It's Your Turn, sold directly from his website.
In addition to his writing and speaking, Seth was founder and CEO of Squidoo.com,. His blog (find it by typing "seth" into Google) is the most popular marketing blog in the world. Before his work as a writer and blogger, Godin was Vice President of Direct Marketing at Yahoo!, a job he got after selling them his pioneering 1990s online startup, Yoyodyne.