You are previewing:

Corporate Governance: The Boardroom, The Bottom Line & Beyond (Hardcover)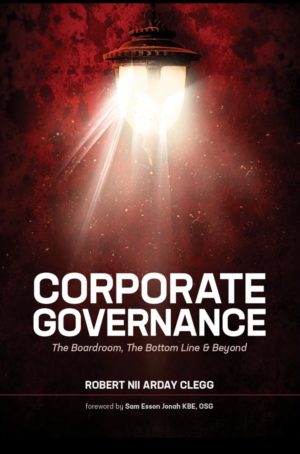 Corporate Governance: The Boardroom, The Bottom Line & Beyond (Hardcover)
Sale!
Corporate Governance: The Boardroom, The Bottom Line & Beyond (Hardcover)
Foreword by Sam Esson Jonah KBE, OSG
"This book…provides key explanations …to enlighten practising directors and corporate lawyers on modern and international trends in their…work. I personally admire how the author skillfully and seamlessly combines three broad subject areas: law, finance and history to make a strong case for modern corporate lawyers to be specialists in finance; for boards of directors to be knowledgeable in finance and law; and for students to be futuristic in their career planning…[T]his publication has all the necessary ingredients to support the central bank's agenda to strengthen corporate governance structures and practices across all segments of the banking industry in Ghana." — Dr. Ernest Addison, Governor of the Bank of Ghana; in-coming 2020 Chair of the Board of Governors of the Bretton Woods Institutions
"A superb, masterful and much-needed contribution to a critically important subject. Robert Nii Arday Clegg's meticulously researched and expertly delivered work is groundbreaking in the Ghanaian context. It is a must-read for any professional who is serious about truly understanding the nuances inherent in the concept of corporate governance and the principal elements of a director's fiduciary duties. Corporate Governance: The Boardroom, The Bottom Line & Beyond could not have been written at a more propitious time. It inspires an enlightened perspective that will produce corporate governance cognoscenti in the classrooms and boardrooms of Ghana for a very long time." — Kwabena Osei-Boateng, Chairman, IC Asset Managers (Ghana) Limited; Member, Oxford University Alumni Board
"An absolute masterpiece…well-researched and provides deep insights into an area where many who believe they understand barely scratch the surface. Corporate governance is particularly relevant in many facets of developing economies like ours and I daresay this book will educate many beyond the borders of this country. I have read many books on the subject and this ranks right up there with the best of them. Much as I expected a great job, I must say that Clegg managed to exceed that expectation. Well done for providing living water to our thirsty land." — Antoinette Kwofie, Executive Director, Finance, Barclays Bank Ghana (Part of the Absa Family)
"This book will give its readers a strong intellectual basis to appreciate the concepts currently shaping corporate governance practices. It is a brilliant toolkit on how to become an effective supervisor. A required reading for a person making rules on corporate policy, currently operating in a boardroom or aspiring to operate from one soon." —  Winston Nelson Jr., Member, Governing Council, Ghana Fixed Income Market; Former Director, Ghana Stock Exchange
"A very powerful and thought-provoking read on one of the biggest topics of our time. Corporate governance shapes our society to a greater extent than many of us might think and Clegg does an excellent job of introducing the topic with its attendant objectives and underpinning philosophies." — Fridrik Arsælsson, Partner, Rettur-Adalsteinsson & Partners; Alternate Board Member, Financial Supervisory Authority of Iceland; Adjunct Professor, The Faculty of Law, University of Iceland
₵400.00
Available on backorder
SKU:

BK3086
Categories: Administrative Law, African Authors, Author Origin, Business Culture, Business Life, Business, Finance & Law, Corporate Governance, Decision-Making & Problem Solving, Ethics, Ghana, Law, Law Enforcement, Legal History, Management & Leadership, Promos & Bundles, Small Business & Entrepreneurship, Social & Family issues, Strategy
Tag: Robert Nii Arday Clegg
Robert Nii Arday Clegg is the Managing Partner at the eponymous corporate law firm of Nii Arday Clegg & Co. He advises companies on a wide range of corporate, commercial and transactional matters and is also a corporate law and governance trainer.
He regularly speaks at corporate governance events at the invitation of boards and management teams in several industries including financial services and oil and gas. He delivers informal teaching sessions to law schools and professional bodies and is frequently called upon to share his corporate governance insights on radio and television.
His articles have been published on the Comparative Corporate Governance Concentration Forum at Harvard Law School, in national newspapers as well as online.
He holds a Master of Laws (LL.M.) with 2 Honors in Corporate Law, Finance & Governance Concentration from Harvard Law School with cross-registration in Boards of Directors & Corporate Governance at Harvard Business School.
He also holds a Bachelor of Arts (BA) with First Class Honours from the University of Ghana, Legon where he was admitted to the Vice-Chancellor's Honours List for outstanding academic performance. He was adjudged the Best Graduating Student in Law at the same university and was awarded the Bentsi-Enchill Prize in recognition of this academic achievement.
On the occasion of his call to the Ghana Bar, he won the S.Y. Bimpong-Buta Prize for being the best student in the interpretation of deeds and statutes, the Alhajj Dramani Yakubu Prize for being the best male student in the interpretation of deeds and statutes, the Prof. Akua Kuenyehia Prize for being the best student in industrial law and the S.K. Kodjovie Memorial Prize for being the best student in the law of taxation.
On the media front, he was adjudged the Television Current Affairs Talk Show Host of the Year at the 2012 RTP Awards.
Robert is married to Mabel with whom he has 3 sons: David, Samuel and Robert Junior.