You are previewing:

Story, Story! Story Come!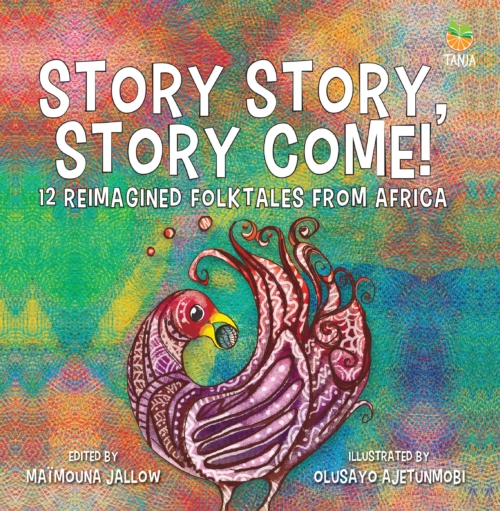 Story, Story! Story Come!
Story, Story! Story Come!
Age Range: 7 – 12 years
Journey from Mali to Gambia to Ghana, where you will pause and remember at the Door of No Return. Continue to Nigeria through Niger. When you can't take the heat, quench your thirst in the Nile in South Sudan. This will lead you through Kenya and onward past Africa's biggest mountain on your way to being sprayed by the waters of Mosi oa Tunya in Zambia. Finally, rest in South Africa, for we have come to the end of our journey and the end of our story. Through riddles and songs, myths and legends, both children and adults are invited to delve into parallel worlds where they are taught valuable lessons on friendship, hard work, bravery and much more.
However, the age-old tradition of oral storytelling is on the decline. Rapid urbanisation, the breakdown of the extended family, technology and so on have altered our social fabric. Whilst our daily lives are still peppered with snippets of remembered words of wisdom and proverbs, the reality is that a new generation of Africans have never had the pleasure of listening to a story being told by a storyteller.
Story, Story! Story Come! is a contribution to larger efforts to revive storytelling in Africa and beyond. Through a global online contest, Positively African invited African writers, wherever they lived and whatever their age, to write a folktale – either based on an old one, or newly imagined. The challenge was to develop new narratives that speak to issues that are fundamental to Africa's development in a way that is unconventional but true to our past traditions of folktale and oral storytelling.
The stories needed to contain life lessons that are relevant for both young and old, however writers were invited to be as inventive and disruptive as they wished in terms of theme, form, language, characters, imagery and context.
The ten winning stories are refreshingly imaginative and tackle a mix of issues. We criss-cross from South Sudan to South Africa, Mali, Niger, Nigeria, Ghana, Kenya and Zambia. Some stories offer valuable moral lessons on greed and pride; others celebrate bravery, perseverance and friendship. One story takes us to a real archaeological site in Niger where a young girl imagines the future. In another, African water spirits share a world with a Beyoncé-obsessed teen that is taught a big lesson in humility. We have also included two additional stories, one by author and publishing partner Zukiswa Wanner and another by the editor of the anthology, Maimouna Jallow. One thing that they all have in common is that they speak to issues we face globally today, from an African perspective.
₵70.00
Out of stock
SKU:

BK2340
Categories: 9-12 years, Action & Adventure, African Anthropology, African Authors, Age Range, Ages 6-8 years, Anthology, Author Origin, Children & Teens, Contemporary Fiction, Cultural Heritage, Cultural Studies, Family, Friendship, Growing Up & Facts of Life, Historical, History, Illustrated books, Literature & Fiction, Multiculturalism, Nigeria, Short Stories, Short Story Collections, Travel
Tags: Maimouna Jallow, Olusayo Ajetunmobi, story, Story! Story Come!, Zukiswa Wanner
Zukiswa Wanner was born in Zambia to a South African father and a Zimbabwean mother.
Her debut novel, The Madams, published in November 2006, dealt with racial role reversals in post-apartheid South Africa. Behind Every Successful Man was published in 2008 by Kwela Books. Men of the South was Wanner's third novel and came out in 2010.
In addition to writing fiction, Wanner has also contributed essays to Oprah, Elle and Juice magazines, and literary reviews and essays to Afropolitan and Sunday Independent, as well as the international online journal, African Writing.
Her latest novel, London – Cape Town – Joburg, was published by Kwela in 2014. Her children's book, Refilwe, was published by Jacana in 2015.