You are previewing:

Guts and Grit: The Compelling and Inspirational Stories of Six Successful Ghanaian Entrepreneurs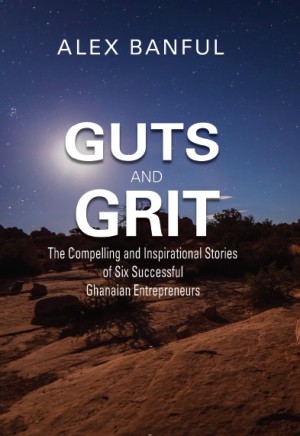 Guts and Grit: The Compelling and Inspirational Stories of Six Successful Ghanaian Entrepreneurs
Guts and Grit: The Compelling and Inspirational Stories of Six Successful Ghanaian Entrepreneurs
How can a nation address the menace of a growing number of unemployed youths? Why is the private business endeavour perceived largely as a big risk? What does it take for one to brave the storm and establish a flourishing enterprise? This book highlights the success stories of some of Ghana's current entrepreneurs despite all the obstacles they have faced. Guts and Grit serves as a revelation to our public officials and the society at large towards a behavioural change in how private enterprises are seen, regarded and treated.
The frank and engaging case studies provide the catalyst for dismantling the obstacles to achieving business success. The success stories so freely shared offer a source of inspiration and a springboard to the young people who would be willing to take up entrepreneurship.
***
"Guts and Grit is a book that chronicles the gut-wrenching stories of entrepreneurs who have braved significant odds to build viable businesses in a developing economy context.
In choosing to write this book, Alex Banful, the author could not have made a better choice. The choice of entrepreneurship should not be surprising, given that there is at least four decades of scholarship to demonstrate that entrepreneurship, new business venturing, and the development of small and medium enterprises are crucial to Africa's growth.
Guts and Grit will soon become a leading cross-over entrepreneurship textbook that will be useful
for executive training, undergraduate and postgraduate training programmes in Africa and other emerging economy contexts." − Prof. Robert E. Hinson, Ph.D., DPhil.; Deputy Vice-Chancellor, University of Kigali, Rwanda
₵100.00
In stock (can be backordered)
SKU:

BK5931
Categories: African Authors, Author Origin, Biographies & Memoirs, Business Culture, Business Life, Business Professionals, Business, Finance & Law, Career, Computers & Technology, Development & Growth, Development Studies, E-Commerce, Economics, Ghana, Human Resources Management, Industrialists, Industries, Leaders & Notable People, Leadership, Management & Leadership, Manufacturing, Mobile & Wireless Telecommunications, Organizational Change, Processes & Infrastructure, Professionals & Academics, Real Estate, Retailing, Small Business & Entrepreneurship, Strategic Planning, Systems & Planning
Tags: Alex Banful, DAkpabli & Associates, Entrepreneurship, Entrepreneurship & Values, Ghana, Ghanaian Business, Guts and Grit: The Compelling and Inspirational Stories of Six Successful Ghanaian Entrepreneurs, Gwyneth Gyimah Addo, Kofi Anku, Kwasi Appiagyei, Leadership, Leticia Osafo-Addo, New business, Strategy Management, Theresa Oppong-Beeko, Tony Oteng-Gyasi, West Africa
Alex Banful is a seasoned marketing professional with over forty years of experience in Ghana and across Africa. His expertise spans several industries, including FMCG, Computers, Consulting, and Public Health, and functions, including behaviour change communication. He has a proven track record over three decades of social marketing design and implementing blockbuster social behavior change programmes within the health sector in Ghana, including the very successful national campaigns for HIV/Aids – "Stop Aids Love Life" and Family Planning – "It's your life, it's your choice". His work helped to curb the HIV menace in Ghana and made contraceptives for population management a part of normal society presence.
Alex has also mentored several businesspeople and entrepreneurs over the years, and together with his combined experience leading GSMF International, has observed much about the social environment for entrepreneurship development in Ghana. As a firm proponent of entrepreneurship and the private sector as a sustainable engine for growth and employment, he has now turned his attention to changing the local environment and is committed to incept a change in the social narrative and perception of young, educated Ghanaians being motivated to both work for themselves. Indeed, this paradigm shift is important if we are to create avenues for employment for an ever-growing workforce.
Alex was born in 1955, studied at Accra Academy, and received a Bachelor of Arts in Political Science (1977) from the University of Ghana and an Executive Master's in Governance and Leadership from GIMPA Graduate School Greenhill (2003). He holds full membership of the Chartered Institute of Marketing Ghana.
Customers Also Bought These