You are previewing:

Africa Must Unite!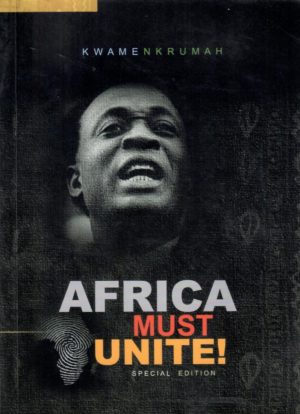 Africa Must Unite!
Related Products
Customers Also Bought These
Africa Must Unite!
Africa Must Unite best describes what Osagyefo Kwame Nkrumah stood for.
The mission he began over half a century ago remains uncompleted and the task of this generation is to make the dream of African unity come alive and realise our full potential as the African nation that would be embracing all peoples of African ancestry.
Nkrumah called for the political and economic unification of African states as the most effective way to achieve economic and socio-cultural emancipation and regain full sovereignty over our land and resources.
The thesis of Africa Unite remains unassilable, giving hope to about 1.5 billion Africans all over the world who aspire for a better life in a more humane world.
Africa Must Unite!
₵200.00
Out of stock
SKU:

BK2170
Categories: African Authors, African Biographies, African History, African Politics, Author Origin, Biographies & Memoirs, Civil Liberties & Political Activism, Civilization & Culture, Ghana, Historical, History, International & World Politics, Leaders & Notable People, Nation building, Politics & Government, Politics & Social Sciences, Politics & State, Presidents & Heads of State, West African History, World
Tags: Africa, African Unity, Ghana, Kwame Nkrumah
Kwame Nkrumah was a Ghanaian politician and revolutionary. He was the first prime minister and president of Ghana, having led it to independence from Britain in 1957. An influential advocate of Pan-Africanism, Nkrumah was a founding member of the Organization of African Unity and winner of the Lenin Peace Prize in 1962.
Customers Also Bought These