You are previewing:

It Takes A Woman: A Life Shaped by Heritage, Leadership and the Women Who Defined Hope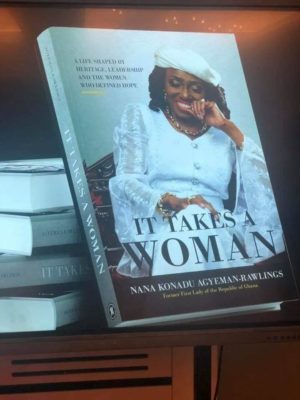 It Takes A Woman: A Life Shaped by Heritage, Leadership and the Women Who Defined Hope
It Takes A Woman: A Life Shaped by Heritage, Leadership and the Women Who Defined Hope
It Takes a Woman retraces the early life of Agyeman‐Rawlings who rose to prominence as the First Lady of the Republic of Ghana (1982-2000). She redefined the privilege of serving a nation, and sought every platform to champion the causes of underserved citizenry and women. While her husband, former President Jerry John Rawlings, embarked on a relentless pursuit of transforming Ghana into a model of African democracy, Mrs. Agyeman-Rawlings founded the 31st December Women's Movement (the 31st DWM), an organisation which played a pivotal role in the empowerment of women, and in addressing issues of systemic gender inequality, not only in Ghana but across the African region.
Born in an era when women were overtly marginalised, Nana Konadu Agyeman-Rawlings' strong relationship with her father, mother and family elders formed the core of much of her formative years. Fortified by her unique family history, she was raised to never accept the notion that "there were some things she could not do, simply because she was a woman."
The narrative captures the family history of a spirited little girl, and as she walks us through the refreshingly detailed scenes from her childhood, we are transported to a hopeful and quintessential Ghana, where a sense of national pride resounded powerfully at the time of independence. But as she recalls Ghana's struggles post-independence, we are also confronted face to face with her juxtaposed emotions of elation and frustration, hurt and joy, certainty and dread. She was not to know that her personal life being upended early one morning in 1979 would also become a turning point in the nation's history and would thrust her into the glare of international publicity.
It Takes a Woman, written with unflinching candour, is an absorbing portrait of a life devoted to public service and shaped by heritage. Above all, it is an account of resilience. The voices of the women who stood tall will forever inspire Agyeman-Rawlings to stand for many more whose voices may not be loud enough to stand on their own.
₵170.00
Available on backorder
SKU:

BK1415
Categories: African Authors, African Biographies, African History, Author Origin, Biographies & Memoirs, Deals of the Month, Ghana, Historical, History, Leaders & Notable People, Literature & Fiction, Social Activists, West African History, Women, Women in History
Tags: 31 December, Ghana, Ghana History, It Takes A Woman, It Takes A Woman: A Life Shaped by Heritage, JJ Rawlings, JJR, June 4, June 4th, Leadership and the Women Who Defined Hope, Nana Konadu Agyeman Rawlings, PNDC, Politics, Rawlings, Revolution
Nana Konadu Agyeman-Rawlings was the First Lady of Ghana from 4 June 1979 to 24 September 1979 and 31 December 1981 to 7 January 2001, both times under President Jerry John Rawlings. In 2016 she became the first woman to run for President of Ghana.
Nana Konadu was born on November 17, 1948, to J.O.T. Agyeman and Mrs Felicia Agyeman. She attended Achimota School, where she met Jerry John Rawlings. She went on to study Art and textiles at the University of Science and Technology. She was a student leader of her Hall of residence, Africa Hall. In 1975 she earned an interior design diploma from the London College of Arts.
Nana Konadu got married Rawlings in 1977. They had their first child in 1978. Rawlings was then an Airforce Officer. Two other daughters and a son followed later; Yaa Asantewaa, Amina and Kimathi.[1] She would pursue her education into the next couple decades, acquiring a diploma in advanced personnel management from Ghana's Management Development and Productivity Institute in 1979 and a certificate in development from the Ghana Institute of Management and Public Administration in 1991.
Nana Konadu Agyeman Rawlings became First Lady first when her husband became Head of State briefly in 1979. He returned to power in 1981 and was in charge until 2001. She has been the president of the 31st December Women's Movement in 1982. She was elected First Vice Chairperson of her party in 2009 during the second term of her National Democratic Congress (NDC) party's tenure in office under President John Atta Mills. She unsuccessfully challenged Atta Mills for the party's flagbearership position at the party's congress in 2001.
Customers Also Bought These