You are previewing:

54 Silhouettes (First Runner-Up, BBC African Performance Competition 2011)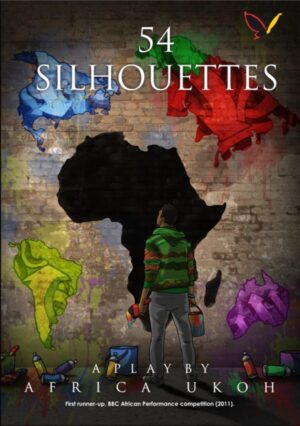 54 Silhouettes (First Runner-Up, BBC African Performance Competition 2011)
54 Silhouettes (First Runner-Up, BBC African Performance Competition 2011)
Victor Chimezie, a struggling Nigerian actor pursuing big dreams in Hollywood, finally gets the biggest opportunity of his career when his agent Sonny Chuks, lands him a part in a blockbuster action film. There's a big shot producer backing the project and the lead actor is a megastar. It's fame and fortune knocking, everything he and Sonny have bled for over the years.
There's only one problem. The movie. Victor comes to discover, is exactly what he swore he would never do again -another "war in Africa" film.
Trapped between career ambitions and ideals of his African identity, Victor must decide whether to do the damn film or ditch it.
₵60.00
Out of stock
SKU:

BK4762
Categories: African Authors, Author Origin, Best Seller, Classics, Drama & Plays, Literary Fiction, Literature & Fiction, Nigeria, Short Story Collections
Tags: 54 Silhouettes, Africa Ukoh, Drama, Play
Africa Ukoh is a Nigerian playwright, screenwriter and actor. His play 54 Silhouettes was the winner of the Stratford East/30 Nigeria House Award and was also first runner up for the BBC African Performance Competition. It was produced as a radio play for BBC before its Jos stage premiere in 2013 and publication with Origami Books in 2018. Most recently, 54 Silhouettes has been performed in October 2018 as a one-man show by Charles Etubiebi in Lagos and at NEAP Fest in Brazil, and will be once again at the 2019 Lagos Theatre Festival on 12-14 April. In 2018, his play Token Dead White Guy was shortlisted for the BBC International Radio Playwriting Competition.
Ukoh co-wrote, with Abba Makama, the film Green White Green, which had its international premiere at the 2016 Toronto International Film Festival and is currently available on Netflix. He has written a number of other screenplays that raise questions about ethnicity, class, and society in contemporary Nigeria.
Customers Also Bought These