You are previewing:

Anu Gbaa Ajo Egbe (Igbo)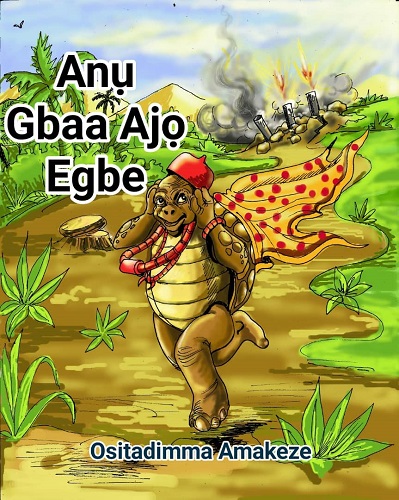 Anu Gbaa Ajo Egbe (Igbo)
Anu Gbaa Ajo Egbe (Igbo)
Ositadimma Amakeze has been heralded as the modern-day Achebe.
Anụ Gbaa Ajọ Egbe… (fable)is a contribution towards promotion and preservation of folktales as tradition in Igbo land. Let the title, which at the first looks controversial, not deter you, for where there's Tortoise they are limitless possibilities. Remember, it was he, who chose to be addressed as "Unu dum" when he joined a flock of birds to a feast in heaven. You better see why he is the Nkpọnkpọ kpọkịrịkpọ, one of a kind that no other animal is capable of begetting but she Tortoise herself!
The novel documents the adventures of Mbekwu, the tortoise who is regarded as the trickster in Igbo folklore – equivalent to Ananse in Twi lore or the Coyote in Native American lore.
₵40.00
Only 1 left in stock
SKU:

BK3049
Categories: 9-12 years, African Authors, Age Range, Ages 6-8 years, Author Origin, Children & Teens, Contemporary Fiction, Fairy Tales & Folklore, Igbo, Language Instruction, Languages, Literary Fiction, Literature & Fiction, Nigeria, Teens
Tags: Anu Gbaa Ajo Egbe, Folktales, Igbo, Ositadimma Amakeze, Purple Shelves
Ositadimma Amakeze was born on the first month of months, January, in the year of his birth. He is a Catholic priest and the founder Young Women & Men Creative Association (YOWAMCA). As an artist and a poet (by virtue of phenomenological necessity), he exploits the experiential and existential dimension of things and lays them down at the tribunal of faith and reason. He observes and interacts with nature, such that a close witness of a bird-couple teaching their fledging how to fly in a solitary shrub concretises his belief that we nurture nature. Bees and ants are among his creatures of admiration.
He talks about the Muse, as evident in his poetry collections, The Blazes & Buzzes of the Muse and The Medley of The Muse. For him, having written copiously in English language, every author should write in his or her own native language, for those in prints will not go extinct. His first Igbo novel, Ọgazị Amaka as well as his other books have found their ways into secondary schools and tertiary institutions.
The demiurgic force as it were, fashions the sensible world of his words. "In writing, one is powerful beyond measures; every character looks up to you to have birth, breath or death," he says. These are evident in the eloquence and ingenious exploitation of events found in his novels The Last Carver, Teeth of a Snail, and his numerous short stories.
He is a native Nimo in Anambra State, Nigeria.
Customers Also Bought These