You are previewing:

Yes I Do (Vol. 1): Bone of my Bone – Discovering Your Soul Mate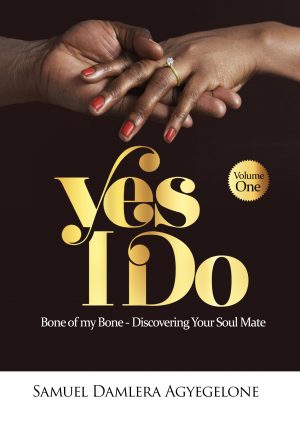 Yes I Do (Vol. 1): Bone of my Bone – Discovering Your Soul Mate
Yes I Do (Vol. 1): Bone of my Bone – Discovering Your Soul Mate
"YES I DO" Volume I presents comprehensive teachings, sound pieces of information, advice and safety precautions. The pitfalls in establishing marital relationships have been discussed; exposing fraudsters in the system.
It does not only seek to build the spirituality of readers through the scriptures provided but also make a compelling case for them to develop their life and employable skills as a means of raising their personal values and improving their chances of getting a higher calibre of suitors.
The unmarried, are mentored and fully equipped with practical ways to market themselves, to search and to connect with the opposite sex. The expected outcome is that readers will know what to look out for and how to look for it in a would-be partner.
How to engage in effective Christian courtship that will lead to a fulfilling Christian marriage has also been dealt with in great detail – with the introduction of the "Soul mate session" an exciting courtship spiritual workshop to be held by partners.
It gives insights about common sources of conflict in marriages to forewarn and forearm readers and also suggests ways to forestall some of them during the search for suitors.
Common questions that bother young Christians have also been answered and illustrations given.
The basic teachings of the Catholic Church relating to marriage and divorce have also been discussed so that aspirants to the Christian marriage will know exactly what they are getting into.
It is recommended for all those involved in the formation of the youth; at home church or institutions.
₵30.00
SKU:

BK5495
Categories: African Authors, Author Origin, Christian Books & Bibles, Christian Living, Family & Lifestyle, Ghana, Marriage & Long-Term Relationships, Parenting & Relationships, Relationships, Religion & Spirituality
Tags: Christian marriage, Lumiere Creatif, Marriage, Relationships, Samuel Damlera Agyegelone, soul mate, Yes I Do (Vol. 1): Bone of my bone- Discovering your soul mate
Samuel Damlera Agyegelone is a renowned counsellor, who is a Board Member of Notre Dame Minor Seminary and Senior High School, Navrongo and has sat on other educational boards. He is married to Madam Juliana Abugre Ayamga Agyegelone and their union is blessed with two biological sons but raised many other children.
Mr. Damelera Agyegelone holds a degree in BSc. Agricultural Engineering, KNUST and an EMBA; GIMPA. Currently, he is the Parish Council Chairman of OLA Parish of the Catholic Church, the Assistant Chairman – Diocesan Laity Council, Navrongo -Bolgatanga Diocese of the Catholic Church and is also a pioneering member of the Catholic Charismatic Renewal (CCR) of the Catholic Church.
A member of the Teaching Ministry of CCR and Radio Preaching Team, a very key member of the Marriage Counselling Team of OLA Parish , involved in marriage instructions and counselling which has provided him the platform to engage and counsel many.