You are previewing:

The Power of Your Subconscious Mind: Unlock Your Master Key to Success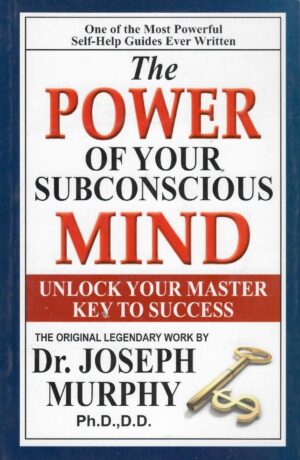 The Power of Your Subconscious Mind: Unlock Your Master Key to Success
The Power of Your Subconscious Mind: Unlock Your Master Key to Success
The Power of Your Subconscious Mind has been a bestseller since its first publication in 1963, selling many millions of copies since its original publication. It is one of the most brilliant and beloved spiritual self-help works of all time which can help you heal yourself, banish your fears, sleep better, enjoy better relationships and just feel happier. The techniques are simple and results come quickly. You can improve your relationships, your finances, your physical well-being.
Dr. Joseph Murphy explains that life events are actually the result of the workings of your conscious and subconscious minds. He suggests practical techniques through which one can change one's destiny, principally by focusing and redirecting this miraculous energy. Years of research studying the world's major religions convinced him that some Great Power lay behind all spiritual life and that this power is within each of us.
The Power of Your Subconscious Mind will open a world of success, happiness, prosperity, and peace for you.
₵40.00
Out of stock
SKU:

BK4817
Categories: Biographies & Memoirs, Business Professionals, Business, Finance & Law, Classics, Company Profiles, Corporate Governance, Development & Growth, Development Studies, Economic Policy & Development, Economics, Globalization, Historical Study & Educational Resources, History, International & World Politics, Motivational & Self-Help, Politics & Government, Politics & Social Sciences, Professionals & Academics, Self-Help, Success
Tags: Classics, Economics, Entrepreneurship, Finance, Joseph Murphy, The Power of Your Subconscious Mind
Dr. Murphy changed the lives of people all over the world. His legacy is being carried forward by the JMWGroupforlife.com and Dr-Joseph-Murphy.com.
Dr. Murphy wrote, taught, counselled, and lectured to thousands of people all over the world, as Minister-Director of the Church of Divine Science in Los Angeles. His lectures and sermons were attended by thousands of people every Sunday. Millions of people tuned in his daily radio program and have read the over 30 books that he has written, which have sold over ten million copies worldwide.
Dr. Joseph Murphy has been acclaimed as a major figure in the human potential movement, the spiritual heir to writers like James Allen, Dale Carnegie, Napoleon Hill, and Norman Vincent Peale and a precursor and inspirer of contemporary motivational writers and speakers like Tony Robbins, Zig Ziglar, Louise Hay and Earl Nightingale. He was one of the best selling authors in the mid-twentieth century. His book THE POWER OF YOUR SUBCONSCIOUS MIND has sold millions of copies and has been translated into thirty languages. This book has never been out of print and is still one of the best sellers in the self-help genre. The only authorized edition is published by Penguin Random House and JMW Group.
Over the years Dr. Murphy has given lectures and radio talks to audiences all over the world. In his lectures he points out how real people have radically improved their lives by applying specific aspects of his concepts, and gives the listener guidelines on how they too can enrich their lives.
Customers Also Bought These