You are previewing:

The 'Kaya' Diplomat: Diary Notes of a Ghanaian Diplomat (Hardcover)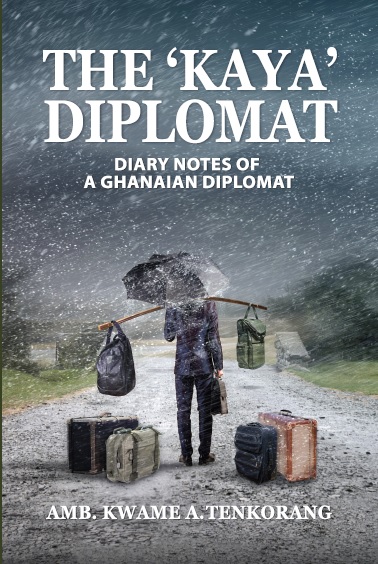 The 'Kaya' Diplomat: Diary Notes of a Ghanaian Diplomat (Hardcover)
Related Products
Customers Also Bought These
The 'Kaya' Diplomat: Diary Notes of a Ghanaian Diplomat (Hardcover)
The 'Kaya' Diplomat: Diary Notes of a Ghanaian Diplomat is an account of event and episodes that I encountered in my forty-one years of service as a Foreign Service Officer.
Inevitably, such a story coincides with the life and service of other high-ranking personalities who played a role or directed Foreign Policy of the Republic of Ghana, as our lives crossed. These interactions played a major role in developments in my career and fashioned the Diplomat that I became.
This is my story.
₵200.00
Only 2 left in stock (can be backordered)
SKU:

BK6614
Categories: African Authors, African Biographies, African History, African Politics, Author Origin, Biographies & Memoirs, Business Culture, Business Life, Business, Finance & Law, Career, Decision Making, Decision-Making & Problem Solving, Development Studies, Diplomats, Diplomats, Ghana, Globalization, Historical, History, International & World Politics, Leaders & Notable People, Leadership, Management & Leadership, Nation building, Political Advocacy, Politics & Government, Politics & Social Sciences, Politics & State, Professionals & Academics, West African History
Tags: Ambassador Kwame A. Tenkorang, Diplomat, DK Osei, Foreign Service, Ghana, Kwame A. Tenkorang, The 'Kaya' Diplomat: Diary Notes of a Ghanaian Diplomat
Ambassador Kwame A. Tenkorang joined the Ministry of Foreign Affairs of Ghana as a young Foreign Service Officer in 1976. By dint of hard work, Ambassador Tenkorang rose through the ranks from A5 Foreign Service Officer to reach the top as A1 and the rank of Ambassador.
Through this period, Ambassador Tenkorang served in many capacities within the Ghana Foreign Service, both at home and abroad. He was a First Secretary, then later Counsellor at the Permanent Mission to the United Nations Office in Geneva; Minister-Counsellor in Tokyo, Japan; Deputy High Commissioner in Abuja; Deputy Head of Mission in Addis Ababa; back to Abuja; Ambassador to the Libyan Arab Jamahiriya and concurrently accredited as High Commissioner to Malta; Ambassador to Japan with concurrent accreditation as High Commissioner to Singapore; High Commissioner to Kenya, concurrently accredited to Burundi, Rwanda, Tanzania, Uganda and Eritrea.
Back in the Ministry, as a result of a policy of rotation, Ambassador Tenkorang started from the Information Division to Estates; Finance & Accounts; Africa & OAU; Personnel Administration; Europe; Later, he became Director for Policy Planning & Research; Personal Assistant to two different Ministers of Foreign Affairs – Dr. Obed Y. Asamoah and Ambassador James Victor Gbeho, as well as Chief of Protocol.
To cap all these assignments, Ambassador Tenkorang first occupied the position of Deputy Director of State Protocol, serving the then Vice President, Professor John Atta-Mills.
Eventually, while holding the rank of Ambassador and at post in Japan, he was recalled home from that high office to serve as Director of State Protocol, a position he held under the tenure of two Presidents, President Atta-Mills and President JD Mahama.
Since retirement, Ambassador Tenkorang has become more passionate about cocoa farming and writing on various issues about national life in Ghana.
Currently, he is the General Secretary of The Council on Foreign Relations – Ghana, an independent think tank on foreign affairs and foreign policy issues. Football and tennis remain his favourite sports.
Ambassador Tenkorang is married to Gloria and is blessed with four off-springs, now adults – Kwaku, Korkor, Nana Akua and Asantewa. There is also the adorable Sika, the grand-daughter.
Customers Also Bought These