You are previewing:

Critical and Biographical Essays of Nana Dr. S.K.B. Asante: From an African Village to the Global Village and Back (Hardcover)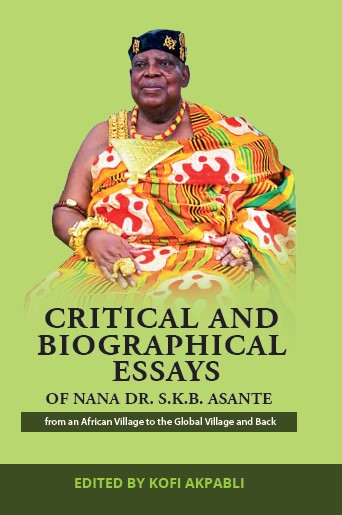 Critical and Biographical Essays of Nana Dr. S.K.B. Asante: From an African Village to the Global Village and Back (Hardcover)
Critical and Biographical Essays of Nana Dr. S.K.B. Asante: From an African Village to the Global Village and Back (Hardcover)
Few Ghanaians of any generation have had a career as long, as varied, and as consequential as Nana S.K.B. Asante's: government attorney; law teacher; international public servant; constitution framer; adviser to sovereign parties; commercial arbitrator; public intellectual; traditional monarch. Just as impressive is the fact that, in each of these substantial roles, Nana has left a trail of writings. My own first encounter with Nana's scholarship happened during my time at Yale Law School, his alma mater. As an editor on the law review, I was curious to know whether any Ghanaian had been published by the prestigious journal. My search led me to a fascinating article on Ghanaian property and customary law written by Samuel K.B. Asante in the 1965 volume of the journal. At the time of my discovery, his was the only article by a Ghanaian published in the 100-year history of the journal. I would later discover many more of his academic writings, some of which I assigned to my class in my years as a law teacher.
This book collects in one volume some of Nana's mostly "non-academic" writings. The essays tell, in characteristically fine prose rich in biography and history, the story of an intellectual-technocrat keen to use his wealth of knowledge to address contemporary problems of development and to put that expertise in the service of his country–and of the developing world at large. The publication of this selection of Nana S.K.B. Asante's writings, in the 90th year of his life, is a monumental accomplishment and a befitting capstone of a long and distinguished career.
PROF. H. KWASI PREMPEH
Executive Director of Ghana Center for Democratic Development
The incredibly rich collection of writings by the eminent international lawyer, scholar, respected global development expert and prominent traditional ruler, Nana S.K.B Asante, takes the reader on a remarkable journey of nearly seven decades of illumination. His vivid experiences, enormous achievements and witty recollections reveal the remarkable growth of a curious mind and a disciplined intellectual dedicated ultimately to the service of humanity from his native village to the global village. In characteristic modesty, Nana claims not to be a historian, but this book is a historical gold mine filled with nuggets of analysis on the evolution of education, law, science, social policy, public service, constitutional development, nation building and chieftaincy in Ghana, enriched with valuable insights into the solid contributions of illustrious men and women. His penetrating and critical analyses of international development cooperation in the fields of investments, energy, water and natural resources in Asia and Africa must be lessons for all developing countries. This rich resource book is highly recommended.
DR. AGNES AKOSUA AIDOO
Former Social Policy Adviser, UN Economic Commission for Africa
This masterpiece by Nana SKB Asante which narrates his life journey from his hometown at Asokore to Achimota, academia, diplomacy and finally back home is unique, inspiring and educative. The Book covers a broad spectrum of academic disciplines including constitutional law, commercial law, criminal law, international law, chieftaincy, leadership and governance, sociology, history and religions. It provides a vivid account of the constitutional history of Ghana from the author's personal knowledge. The author who had the singular honour to chair the Committee of Experts which gave birth to Ghana's 1992 Constitution also held the positions of Solicitor-General and Deputy Attorney-General under different democratic and military governments. Nana SKB Asante has used simple diction to convey his wealth of knowledge, experience and wisdom, acquired from both local and international levels in different capacities to inculcate in his audience the spirit of patriotism. The book is a must read!
JUSTICE DENNIS DOMINIC ADJEI, FGA
Justice of The Court of Appeal
₵500.00
Available on backorder
SKU:

BK6386
Categories: Academic papers, Administrative Law, African Anthropology, African Authors, African Biographies, African History, African Studies, Anthropology, Author Origin, Biographies & Memoirs, Business Culture, Business Life, Business, Finance & Law, Career, Career Planning & Job Hunting, Corporate Governance, Cultural Studies, Development & Growth, Development Studies, Diplomats, Diplomats, Economics, Education & Teaching, Explore the World, Geography & Cultures, Ghana, Government, Historical, History, History, Human Rights, International Economics, Law, Lawyers & Judges, Leaders & Notable People, Leadership, Legal History, Management & Leadership, Nation building, Politics & Government, Politics & Social Sciences, Professionals & Academics, Social Science, Sociology, Traditional Rulers, West African History
Tags: Critical and Biographical Essays of Nana Dr. S.K.B. Asante: From an African Village to the Global Village and Back, DigiBooks Ghana Ltd, Ghana Academy of Arts and Sciences, Kofi Akpabli, Nana S.K.B. Asante, Notion of the State in Contemporary Africa (Proceedings 1998), S.K.B. Asante
Customers Also Bought These