You are previewing:

Firestarters: How Innovators, Instigators, and Initiators Can Inspire You to Ignite Your Own Life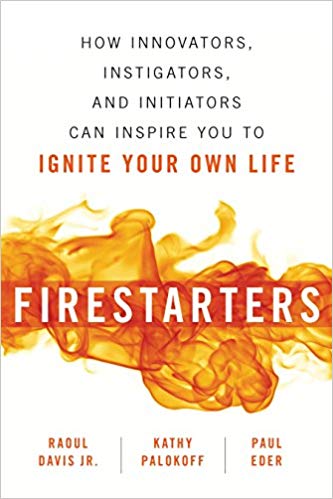 Firestarters: How Innovators, Instigators, and Initiators Can Inspire You to Ignite Your Own Life
Firestarters: How Innovators, Instigators, and Initiators Can Inspire You to Ignite Your Own Life
Based on interviews with entrepreneurs and leaders in many walks of life, this self-help book gives readers the tools for finding success in their careers, businesses, organizations, and private lives.
What is the difference between those bold enough to pursue their dreams and others who never get comfortable enough to ignite their lives? The doers are "Firestarters" and, because of them, the world is a much different, and often, better place. This motivational how-to book provides insights into the crucial difference between people who make things happen and those who only think about making an impact.
Based on research from many disciplines and interviews with professionals at the top of their fields, Firestarters creates a complete roadmap to achieve personal success and make an impact in the world.The heart of the book features stories about successful entrepreneurs, CEOs, organizational leaders, and forward-looking thinkers from a variety of professions. They describe the factors and conditions that ignited their lives and helped them become achievers. Some are known to the public; others will be completely new. But all the stories demonstrate how they became — and you can become — a Firestarter.
The authors provide pragmatic advice on how individual readers can ignite the qualities that will lead them toward pursuing and realizing their dreams. Self-assessment exercises, checklists, and other tools will help readers apply Firestarter insights to their own lives.
Also included are group exercises and discussion guides so the book can be used in business and nonprofit settings to develop the skills that help companies grow.Whether you're an individual seeking ways to realize personal ambitions or a leader trying to motivate your team, you'll benefit from the Firestarter methods featured in this inspirational book.
Kathy Palokoff is a founder and partner at goFirestarter, a coaching and consulting company that helps individuals and organizations ignite, fuel, and accelerate their growth and fulfill their passion. She is also a founder and partner at CUSTOMERicity, a creative agency that helps businesses increase revenue through customer-centric marketing and branding.
Paul Eder, PhD has over fifteen years of experience as a strategy and management consultant focusing on optimization of organizational structures and work environments. Paul is certified as both a Project Management Professional and a Lean Six Sigma Black Belt. He has presented at top-tier conferences and published peer-reviewed articles and papers on strategic planning, employee performance, and creativity.
Raoul Davis Jr. is a partner at Ascendant Group, which helps CEOs, retired athletes, and executive leaders dramatically increase their visibility in front of their target audience through CEO branding. He is considered one of the foremost experts on CEO and executive branding.