You are previewing:

Euphoric Living: A Unique, Interactive Guide to Self-Empowerment from a Certified Coach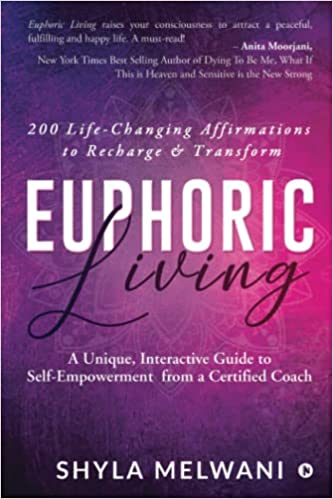 Euphoric Living: A Unique, Interactive Guide to Self-Empowerment from a Certified Coach
Related Products
Customers Also Bought These
Euphoric Living: A Unique, Interactive Guide to Self-Empowerment from a Certified Coach
Euphoric Living is the greatest guide to self-empowerment. For those ready and searching for it, this ride is just for you. Based on compelling modern science, this eye-opening, action workbook utilises the Power of Positive Affirmations – a brilliant self-help practice that clears the mind and opens a whole new world of opportunities. This practice is a great revelation and may stun you with remarkable wisdom that you never contemplated before. I hope this book doesn't bring about change but profound transformation and inspires you to take care of your well-being, the well-being of the people around you, and the well-being of our extraordinary planet. I am confident that you will find clarity in your mind, a better understanding of humanity, and a new love to save the Earth.
This decade is a time for new beginnings and new victories. So, dear friends, welcome to Euphoric Living—a new realm of appreciating yourself. Let's embark together—on a complete soul upgrade!
Get ready. You are in for a treat.
₵100.00
Only 1 left in stock (can be backordered)
SKU:

BK6628
Categories: Asian Authors, Author Origin, Family & Lifestyle, Genre Fiction, Motivational & Self-Help, Self-Help
Tags: Euphoric Living: A Unique Interactive Guide to Self-Empowerment from a Certified Coach, Ghana, Growth, love, Positivity, Self-affirmation, Self-development, Self-help, Shyla Melwani, Spirituality
Shyla Melwani is a health educator, yoga teacher and wellness warrior on a mission to help others transform their lives through the power of self-care. Her weight loss and mental healing journey inspired her to publish her first book, Euphoric Living, which has empowered others to prioritise their mental well-being and embrace self-care as the new healthcare. Her podcast, The Inner Journey, conveys digestible, educational, valuable content for optimising the mind, body and spirit on a cellular level. Her takeaway message is that you need only to take care of yourself because you are the key to saving the world.
Customers Also Bought These