You are previewing:

Motherhood 101: A memoir of my experience as a newlywed juggling pregnancy/motherhood, marriage, work and a social life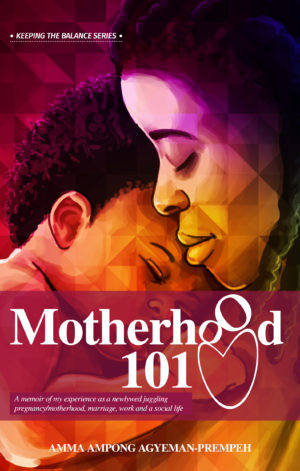 Motherhood 101: A memoir of my experience as a newlywed juggling pregnancy/motherhood, marriage, work and a social life
Motherhood 101: A memoir of my experience as a newlywed juggling pregnancy/motherhood, marriage, work and a social life
If babies could talk, they would say their mother was God.
One of the miracles of the human story is positively the nurturing capabilities of mothers. Beyond carrying that pregnancy for nine months and eventually bringing it forth, mothers go through a whole complex regimen every day to sustain the fledgling human life while taking care of themselves and their home. No wonder some allude mystical powers to the process of childbirth.
But whether supernatural or superwoman, motherhood is an amazing passage that has kept mankind populating Planet Earth. And when one woman steps out to catalogue her own moments of indescribable joy and heart-wrenching pain, the result is this wonderful gift of a book.
Amma Agyeman-Prempeh's work is based on a selfless narrative of the most intimate encounters of motherhood set in a cosmopolitan environment. In the midst of all the juggling, the triumphant twins of love and courage rise and rise.
₵65.00
SKU:

BK1913
Categories: African Authors, African Biographies, Author Origin, Babysitting, Biographies & Memoirs, Day Care & Child Care, Family & Lifestyle, Ghana, Historical, Mothers, Parenting & Relationships, Relationships
Tags: Amma Ampong Agyeman-Prempeh, Babysitting, Child Care, Day Care, Keeping the Balance, Marriage, Motherhood, motherhood 101, Motherhood 101: A memoir of my experience as a newlywed juggling pregnancy/motherhood, motherhood101, Parenting, Pregnancy, work and a social life
Amma Ampong Agyeman-Prempeh is a certified bookworm. She shares her love for reading and writing on www.bookwormgh.com. She enjoys reading (auto)biographies – an opportunity to walk into another's shoes if even for a brief moment.
After completing Wesley Girls' High School in Cape Coast, Ghana she went on to study for a Bachelor's Degree in International Relations and French (with Honours) from Calvin College in Grand Rapids, Michigan, USA and a Master's Degree in International Relations from University of Warwick, UK. She lives in Accra, Ghana with her family.