You are previewing:

David Copperfield (Amazing Illustrated Classics)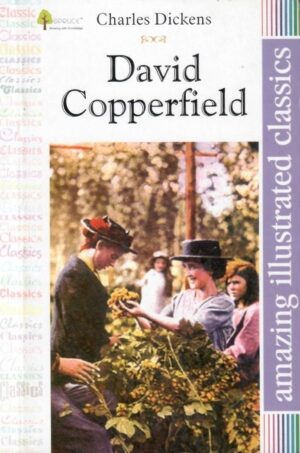 David Copperfield (Amazing Illustrated Classics)
David Copperfield (Amazing Illustrated Classics)
Young David Copperfield, orphaned as a child, abandoned by a vicious stepfather, must learn to make a life for himself. In Charles Dickens' brilliant novel, we learn of David's early harsh years. . . his adoption by his eccentric aunt. . . his betrayal by a childhood friend. . . the pressures of starting a career. . . immature, young love. . . and finally career success and personal happiness.
Charles Dickens' sensitive portrayal of David's early years has made David Copperfield one of the world's most beloved novels.
Amazing Illustrated Classics brings for children a series of 50 abridged classics with illustrations and a world of activities and exercises to test their understanding of the book and knowledge of English language.
₵25.00
Out of stock
SKU:

BK3765
Categories: 9-12 years, Action & Adventure, Action & Adventure, Age Range, Author Origin, Best Seller, Children & Teens, Children Classics, Classics, European Authors, Illustrated books, Literary Fiction, Literature & Fiction, Teens, Young Reader
Tags: Amazing Illustrated Classics, Charles Dickens, Classics, David Copperfield
Charles Dickens was born in 1812 near Portsmouth where his father was a clerk in the navy pay office. The family moved to London in 1823, but their fortunes were severely impaired. Dickens was sent to work in a blacking-warehouse when his father was imprisoned for debt. Both experiences deeply affected the future novelist. In 1833 he began contributing stories to newspapers and magazines, and in 1836 started the serial publication of Pickwick Papers. Thereafter, Dickens published his major novels over the course of the next twenty years, from Nicholas Nickleby to Little Dorrit. He also edited the journals Household Words and All the Year Round. Dickens died in June 1870.
Customers Also Bought These