You are previewing:

Between Generations: An Anthology for Ama Ata Aidoo at 80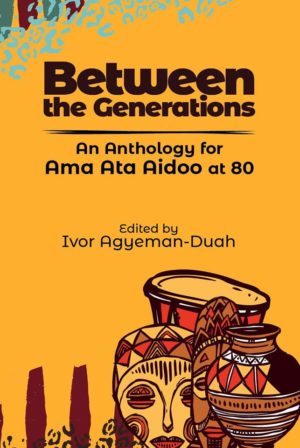 Between Generations: An Anthology for Ama Ata Aidoo at 80
Between Generations: An Anthology for Ama Ata Aidoo at 80
Ama Ata Aidoo, multiple award-winning Ghanaian novelist, poet, playwright and author of the critically acclaimed play, Dilemma of a Ghost, turned 80 in March, 2020. And as part of efforts to celebrate her – the first female African playwright – Between Generations: An Anthology for Ama Ata Aidoo at 80 was released.
Described by Editor Ivor Agyeman-Duah, as 'international affairs through fiction', the 230-page collection tackles wealth and inequality, immigration, sisterhood, love lost and regained and other contemporary issues in Africa and the world.
Opening with Aleppo by Ama Ata Aidoo, the anthology includes stories by eleven other contemporary African writers: Nigerian novelists, Sefi Atta, Ogochukwu Promise; South African novelist, Njabulo S. Ndebele; Senegalese novelist Boubacar Boris Diop, Ghanaian novelists, Ayesha Haruna Attah, Bisi Adjapon, writers Martin Egblewogbe, and Gheysika Adombire Agambila; Rwandan writer, Louise Umutoni and Cameroonian writer Ray Ndebi.
₵95.00
Out of stock
SKU:

BK3256
Categories: African Authors, African Biographies, Algeria, Angola, Anthology, Author Origin, Benin, Best Seller, Biographies & Memoirs, Botswana, Burkina Faso, Burundi, Cameroon, Cape Verde, Central African Republic, Chad, Contemporary Fiction, Contemporary Women, Cote d'Ivoire, Democratic Republic of the Congo, Djibouti, Egypt, Equatorial Guinea, Eritea, Ethiopia, Gabon, Gambia, Genre Fiction, Ghana, Guinea, Guinea-Bissau, Historical, Kenya, Leaders & Notable People, Lesotho, Liberia, Libya, Literary Fiction, Literature & Fiction, Madagascar, Malawi, Mali, Mauritania, Mauritius, Morocco, Mozambique, Namibia, Nation building, Niger, Nigeria, Republic of the Congo, Rwanda, Sao Tome and Principe, Senegal, Seychelles, Short Stories, Short Story Collections, Sierra Leone, Somalia, South Africa, Sudan, Swaziland, Tanzania, Togo, Tunisia, Uganda, Women, Women's Fiction, Zambia, Zimbabwe
Tags: Ama Ata Aidoo, Ayesha Harruna Attah, Bisi Adjapon, Boubacar Boris Diop, Classics, Gheysika A. Agambila, Ivor Agyeman-Duah, Louise Umutoni, Martin Egblewogbe, Njabulo S. Ndebele, Ogochukwu Promise, Ray Ndebi