You are previewing:

Bad Blood: Secrets and Lies in a Silicon Valley Startup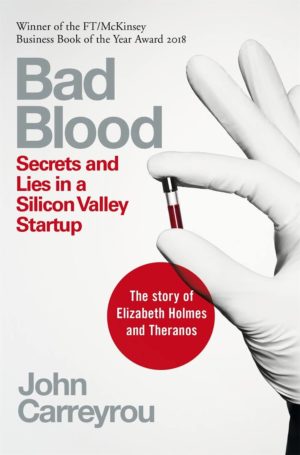 Bad Blood: Secrets and Lies in a Silicon Valley Startup
Bad Blood: Secrets and Lies in a Silicon Valley Startup
Winner of the Financial Times and McKinsey Business Book of the Year Award 2018
A New York Times Notable Book
A Washington Post Notable Book
"It's no wonder Hollywood is turning this book into a movie. I couldn't put this thriller down." — Bill Gates
"You will not want to put this riveting, masterfully reported book down. No matter how bad you think the Theranos story was, you'll learn that the reality was actually far worse." — Bethany McLean, bestselling coauthor of The Smartest Guys in the Room and All the Devils Are Here
A New York Times bestseller to be adapted into a film with Jennifer Lawrence to star.
In 2014, Theranos founder and CEO Elizabeth Holmes was widely seen as the female Steve Jobs: a brilliant Stanford dropout whose startup 'unicorn' promised to revolutionize the medical industry with a machine that would make blood tests significantly faster and easier. Backed by investors such as Larry Ellison and Tim Draper, Theranos sold shares in a fundraising round that valued the company at $9 billion, putting Holmes's worth at an estimated $4.7 billion. There was just one problem: the technology didn't work.
For years, Holmes had been misleading investors, FDA officials, and her own employees. When Carreyrou, working at the Wall Street Journal, got a tip from a former Theranos employee and started asking questions, both Carreyrou and the Journal were threatened with lawsuits. Undaunted, the newspaper ran the first of dozens of Theranos' articles in late 2015. By early 2017, the company's value was zero and Holmes faced potential legal action from the government and her investors.
In Bad Blood John Carreyrou tells the story of Theranos, and encourages us to consider the possible repercussions of our blind faith in a small group of brilliant individuals.
₵80.00
Out of stock
SKU:

BK2217
Categories: Best Seller, Biomedical Engineering, Business Culture, Business Life, Business, Finance & Law, Career, Industries, Leadership, Management & Leadership, Motivational & Self-Help, Self-Help, Small Business & Entrepreneurship, Venture Capital
Tags: John Carreyrou, Silicon Valley, Startups
John Carreyrou is a two-time Pulitzer Prize–winning investigative reporter at the Wall Street Journal. For his extensive coverage of Theranos, Carreyrou was awarded the George Polk Award for Financial Reporting, the Gerald Loeb Award for Distinguished Business and Financial Journalism in the category of beat reporting, and the Barlett & Steele Silver Award for Investigative Business Journalism. Bad Blood was named the Financial Times & McKinsey Business Book of the Year. Carreyrou lives in Brooklyn, New York, with his wife and three children.