You are previewing:

Africa Rise And Shine: How a Nigerian Entrepreneur from Humble Beginnings Grew a Business to $16 Billion (Hardcover)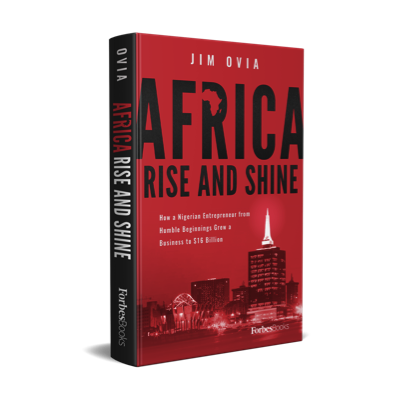 Africa Rise And Shine: How a Nigerian Entrepreneur from Humble Beginnings Grew a Business to $16 Billion (Hardcover)
Africa Rise And Shine: How a Nigerian Entrepreneur from Humble Beginnings Grew a Business to $16 Billion (Hardcover)
The road to success is rarely linear and never easy. Despite countless setbacks, Jim Ovia, founder of Zenith Bank, was able to achieve the unthinkable. Africa Rise and Shine is the story of Ovia's business and banking success and how he was able to create one of Africa's largest banks.
Spanning decades of both world and Nigerian history, Africa Rise and Shine dives deep into the events that led to Ovia's triumph. Drawing upon his educational experiences and relentless determination, Ovia was able to overcome every hurdle that stood in the way of his bank becoming the national icon that it is today. Africa Rise and Shine outlines the tough, yet necessary business decisions that were essential to Zenith's prolonged success and is filled with valuable takeaways for every businessperson. Learn from one of the best in banking what it takes to truly be successful.
₵180.00
Out of stock
SKU:

BK2134
Categories: African Authors, African Biographies, African History, Author Origin, Banks & Banking, Biographies & Memoirs, Business Culture, Business Life, Business Professionals, Business, Finance & Law, Career, Company Profiles, Economics, Historical, History, Industrialists, Industries, Leaders & Notable People, Nigeria, Professionals & Academics, Small Business & Entrepreneurship, West African History
Tags: Africa, Entrepreneurship, Jim Ovia, Zenith Bank
Once dubbed the "Hopeless Continent" by the Economist, Africa is now one of the most dynamic investment markets in the world. Investment success in Africa is, however, not without its challenges. In Africa Rise and Shine, Jim Ovia shares his insider advice on how to strategically win in the African markets. As the Founder and pioneer MD/CEO of Zenith Bank Plc, Jim built the bank from $4m in shareholders' funds to $16bn in assets under both military and civilian rule. Having lost his father at an early age, Jim is no stranger to adversity. As the book progresses, we see how he manages to turn adversity into opportunity. Jim shares with us his key twelve rules for business success in Africa. He recounts how Zenith Bank grew from a rented half of a duplex house to a multi-billion dollar business listed on the London Stock Exchange. Dubbed the "Godfather of Banking" by Forbes Africa, Jim oversaw the expansion of Zenith Bank to over 400 branches in Nigeria, with a presence in UK, China, Dubai, Ghana, Sierra Leone and the Gambia.
An avid enthusiast of technology, Jim sought to bring the internet to Nigeria. His ambitions were unfortunately thwarted by a military government that tore down his satellite. Under civilian rule, the ICT sector was liberalized and Nigeria embraced their new found technological freedom. Against this backdrop, Jim established Visafone which quickly grew to become Nigeria's largest CDMA telecoms provider. He also established Cyberspace to provide network and software solutions that became Microsoft's first CRM partner in Nigeria. As investors watched the dizzying returns made within the ICT sector, many jumped on the bandwagon and the sector became overcrowded. Recognizing the market had passed its peak, Jim undertook a landmark deal with MTN – Africa's largest telecoms provider – to sell his network and its millions of subscribers. Just as the deal was being inked, MTN was hit with a fine of $5.5bn from the Nigerian telecoms regulator. Ever the dealmaker, Jim managed to still push through the sale despite the entire deal team being replaced in the wake of the fine. Jim's most recent deal saw the sale of 51% of his insurance company to Prudential, one of the world's largest insurance companies.
Appreciating the importance of education, he founded the Jim Ovia Foundation which to date has granted scholarships to over 1,500 pupils. The Foundation established James Hope College, a co-educational boarding school that provides scholarships to over 50% of its pupils. The ICT & Youth Empowerment section of the Foundation has trained over 500 people in the developing of apps and provides bursaries of $30,000 to help support app development ideas.
Jim Ovia was appointed a member of the World Economic Forum Community of Chairmen in January 2017 and is the current Chair of the World Economic Forum's Africa Regional Business Council.
He is an alumnus of the Harvard Business School (OPM), University of Louisiana, Louisiana, (MBA), and Southern University, Louisiana, (B.Sc. Business Administration).