You are previewing:

So Long a Letter (African Writers Series)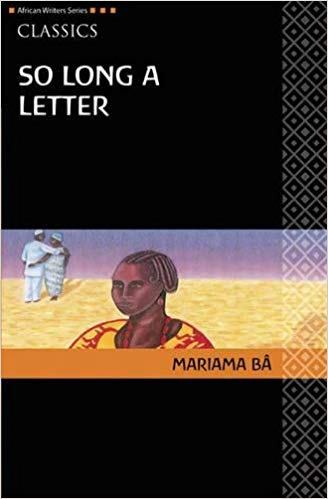 So Long a Letter (African Writers Series)
So Long a Letter (African Writers Series)
Written by award-winning African novelist Mariama Ba and translated from the original French,
So Long a Letter
has been recognized as one of Africa's 100 Best Books of the 20th Century. The brief narrative, written as an extended letter, is a sequence of reminiscences—some wistful, some bitter—recounted by recently widowed Senegalese schoolteacher Ramatoulaye Fall. Addressed to a lifelong friend, Aissatou, it is a record of Ramatoulaye's emotional struggle for survival after her husband betrayed their marriage by taking a second wife. This semi-autobiographical account is a perceptive testimony to the plight of educated and articulate Muslim women. Angered by the traditions that allow polygyny, they inhabit a social milieu dominated by attitudes and values that deny them status equal to men. Ramatoulaye hopes for a world where the best of old customs and new freedom can be combined.Considered a classic of contemporary African women's literature,
So Long a Letter
is a must-read for anyone interested in African literature and the passage from colonialism to modernism in a Muslim country.
Winner of the prestigious Noma Award for Publishing in Africa.
₵45.00
Only 1 left in stock (can be backordered)
SKU:

BK0570
Categories: African Authors, African Novels, Author Origin, Best Seller, Classics, Literary Fiction, Literature & Fiction, Novels, Senegal, Short Story Collections
Tags: African Novels, African Writers Series, Heinemann, Mariama Bâ, So Long a Letter
Mariama Bâ (1929 – 1981) was a Senegalese author and feminist, who wrote in French. Born in Dakar, she was raised a Muslim, but at an early age came to criticise what she perceived as inequalities between the sexes resulting from [African] traditions. Raised by her traditional grandparents, she had to struggle even to gain an education, because they did not believe that girls should be taught. Bâ later married a Senegalese member of Parliament, Obèye Diop, but divorced him and was left to care for their nine children.
Her frustration with the fate of African women—as well as her ultimate acceptance of it—is expressed in her first novel, So Long a Letter. In it she depicts the sorrow and resignation of a woman who must share the mourning for her late husband with his second, younger wife. Abiola Irele called it "the most deeply felt presentation of the female condition in African fiction". This short book was awarded the first Noma Prize for Publishing in Africa in 1980.
Bâ died a year later after a protracted illness, before her second novel, Scarlet Song, which describes the hardships a woman faces when her husband abandons her for a younger woman he knew at youth, was published.