You are previewing:

Real Enemies of the Niger Delta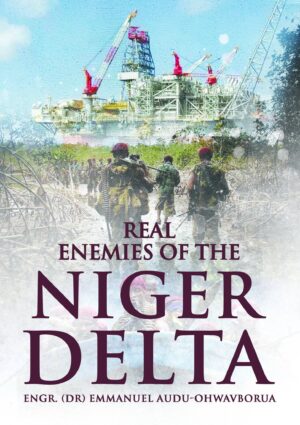 Real Enemies of the Niger Delta
Real Enemies of the Niger Delta
The Real Enemies of the Niger Delta is the first-hand account of a Nigerian born and bred in the oil-rich but depraved Niger Delta region of Nigeria. Traversing his journey from childhood to his experiences as a professional, the author sheds light on his biggest influences, gives a no-hold-barred account of his service in the private sector and shares an honest account of his experience in the public sector where he is currently a Director at the Niger Delta Development Commission (NDDC).
At the same time a memoir, a collection of priceless historical records, an inspirational piece for youths and a clarion call to the nation, The Real Enemies of the Niger Delta captures a myriad of sensitive and contentious issues bedevilling the Niger Delta. Investigative and reflexively examined, it exposes, among others, the "monumental fraud" the 13 percent Derivation Fund in the oil-producing states of the Niger Delta has become. It blows the cover off the untouchable IOCs and the inglorious role leaders and indigenes of the region have played in the colossal corruption as well as the resultant underdevelopment of the region.
The book calls upon indigenes of the region to re-evaluate and consequently downplay their "entitlement mentality" syndrome in the overall interest of the region and allow meritocracy, transparency and accountability to reign supreme. The author presents undisputable facts of history and proposes far-reaching recommendations which would not only bring long-lasting peace and prosperity to the Niger Delta but also to Nigeria as a whole.
The Real Enemies of the Niger Delta hopes to advance the transitioning of the Niger Delta from its perception and reality of largely being a place of violence, youth restiveness, vandalism and belligerence to the investors' preferred destination, like Dubai in the United Arab Emirates.
₵195.00
Out of stock
SKU:

BK4658
Categories: African Authors, African Biographies, African History, Agriculture, Author Origin, Biographies & Memoirs, Business Culture, Business Life, Business, Finance & Law, Career, Family & Lifestyle, Historical, History, Humour & Entertainment, Industrialists, Industries, Leaders & Notable People, Marriage & Long-Term Relationships, Mothers, Nigeria, Parenting & Relationships, Professionals & Academics, Relationships, Social & Family issues, Social Activists, Travel & Tourism Industry, West African History, Women & Business
Tags: Emmanuel Audu-Ohwavborua, Niger Delta, Real Enemies of the Niger Delta
Customers Also Bought These