You are previewing:

Queen Moremi Makes a Promise (Africa's Little Kings & Queens)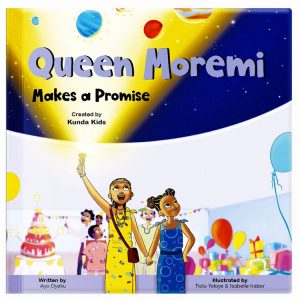 Queen Moremi Makes a Promise (Africa's Little Kings & Queens)
Queen Moremi Makes a Promise (Africa's Little Kings & Queens)
Age Range: 3 – 8 years
A must-have for every child's library. Loved by children around the world and teaches them the importance of sharing and friendship.
Queen Moremi Makes a Promise is a fun and inspirational story based on a real-life Yoruba queen, Olori Moremi, who lived over 800 years ago in modern-day Nigeria. This is a playful story about a popular queen who learns the importance of keeping a promise!
In this story, it's a special day, Queen Moremi's birthday, a grand occasion celebrated by all in the kingdom. Her birthdays are the best parties in the whole kingdom, and her best friend Esi is always by her side. Moremi and Esi are like two peas in a pod, so it wasn't a surprise when Moremi promised to share all her birthday presents with Esi. However, one present threatens to break Moremi's promise, a mysterious gift that reveals something extraordinary.
₵55.00
Only 1 left in stock
SKU:

BK5581
Categories: African Anthropology, African Authors, African Biographies, African History, Age Range, Ages 3-5 years, Ages 6-8 years, Author Origin, Biographies, Biographies & Memoirs, Children & Teens, Cultural Studies, Educators, Geography & Cultures, Historical, History, Leaders & Notable People, Leadership, Literature & Fiction, Nation building, Nigeria, Politics & Government, Politics & Social Sciences, Professionals & Academics, Religious Leaders, Traditional Rulers, West African History, Women in History
Tags: Africa's Little Kings & Queens, Africans, Ayo Oyeku, Ghanaians, History, Isabelle Irabor, Krystle Appiah, Kunda Kids, Louisa Olafuyi, Malians, Mansa Musa Builds a School, Nigerians, Oladele Olafuyi, Pioneers, Queen Kitami Makes Friends, Queen Moremi Makes a Promise, Queen Yaa Saves the Golden Stool, Shaka Zulu Learns to Dance, South Africans, Tiolu Yoloye
Customers Also Bought These