You are previewing:

My Ghanaian Odyssey (Hardcover)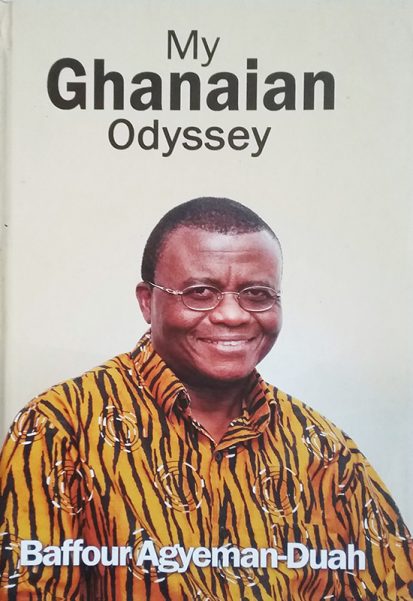 My Ghanaian Odyssey (Hardcover)
My Ghanaian Odyssey (Hardcover)
The author arrests your attention as he takes you through his life experiences and role in entrenching democratic governance in Ghana. The narration grips you to want to read and read until the end of the book; thereafter, the desire is to begin all over again. My Ghanaian Odyssey is not only an autobiography, but also a definitive narrative of the country's political journey. An insightful book, it is a must read for all.
₵150.00
Only 1 left in stock
SKU:

BK3220
Categories: African Authors, African Biographies, African History, Author Origin, Best Seller, Biographies & Memoirs, Business Culture, Business Life, Business, Finance & Law, Career, Civil Liberties & Political Activism, Ghana, Historical, History, Leaders & Notable People, Leadership, Management & Leadership, Nation building, Political Advocacy, Politics & Government, Politics & Social Sciences, Politics & State, Professionals & Academics, Social Activists, West African History
Tags: Baffour Agyeman-Duah, DigiBooks Ghana Ltd, Ghana, Governance, My Ghanaian Odyssey
Prof. Agyeman-Duah is a co-founder of the Ghana Center for Democratic Development (CDD-Ghana). He is currently the Chief Executive Officer at the John A. Kufuor Foundation. He worked for about a decade with the United Nations as Senior Governance Adviser in Tanzania and as Senior Special Adviser at the United Nations Mission in Liberia.
He also served as Elections Consultant for the National Democratic Institute of USA in Liberia and Sierra Leone, and for the Commonwealth in Zimbabwe and Cameroon. A former university professor, he has taught in North Carolina and served as Fulbright Professor at the Legon Center for International Affairs, University of Ghana.
An advocate for democracy and good governance, Prof Baffour has made numerous appearances on Ghana's Radio and Television, Voice of American and BBC to comment on Governance and Democracy in Africa. Prof. Agyeman-Duah's book publications include Ghana: Governance in the Fourth Republic (2008) and My Ghanaian Odyssey (2012). He is an alumnus of the University of Cape Coast in Ghana; Ohio University and University of Denver in the USA.
Customers Also Bought These