You are previewing:

Little Women (Penguin Readers Level 1)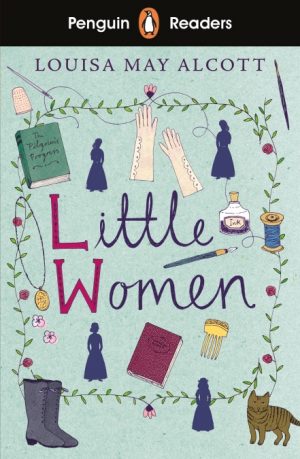 Little Women (Penguin Readers Level 1)
Little Women (Penguin Readers Level 1)
Age Range: 12 – 17  years
Little Women is the story of a poor American family in the American Civil War. The four sisters, Beth, Jo, Meg and Amy are very different. But together they work hard and help their mother and father. Sometimes their lives are very happy, and sometimes they are very sad. But the family's love always helps them.
Penguin Readers is a series of popular classics, exciting contemporary fiction, and thought-provoking non-fiction written for learners of English as a foreign language. Beautifully illustrated and carefully adapted, the series introduces language learners around the world to the bestselling authors and most compelling content from Penguin Random House. The eight levels of Penguin Readers follow the Common European Framework and include language activities that help readers to develop key skills.
Little Women, a Level 1 Reader, is A1 in the CEFR framework. Short sentences contain a maximum of two clauses, introducing the past simple tense and some simple modals, adverbs and gerunds. Illustrations support the text throughout, and many titles at this level are graphic novels.
₵24.00
Out of stock
SKU:

BK5066
Categories: 9-12 years, Action & Adventure, Activities, Crafts & Games, Age Range, Animals, Book Sets, Children & Teens, Children Classics, Classics, Education & Teaching, Family, Growing Up & Facts of Life, Illustrated books, Literary Fiction, Literature & Fiction, Short Stories, Short Story Collections, Teens
Tags: Little Women (Penguin Readers Level 1), Louisa May Alcott, Penguin Readers
Louisa May Alcott was both an abolitionist and a feminist. She is best known for Little Women (1868), a semi-autobiographical account of her childhood years with her sisters in Concord, Massachusetts. Alcott, unlike Jo, never married: "... because I have fallen in love with so many pretty girls and never once the least bit with any man." She was an advocate of women's suffrage and was the first woman to register to vote in Concord, Massachusetts.
Customers Also Bought These