You are previewing:

Bookset: Reading Starter Pack (13 books)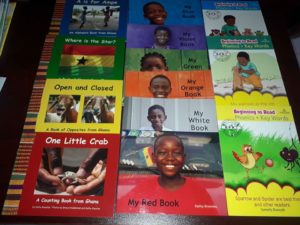 Bookset: Reading Starter Pack (13 books)
Bookset: Reading Starter Pack (13 books)
Age Range: 2 – 5  years
Introduce your child to alphabets, colours, numbers, phonics and the joy of reading with this 13 exciting, colourfully-illustrated books, carefully curated to let you bond with your little bundle of joy as you discover the world together.
₵255.00
Only 1 left in stock (can be backordered)
SKU:

BS57
Categories: Activities, Crafts & Games, Activity book, Age Range, Ages 3-5 years, Alphabet, Baby - 2 years, Basic Concepts, Beginner Readers, Children & Teens, Children Classics, Early Childhood Education, Education & Teaching, Illustrated books, Pre-school, Promos & Bundles, Size & Shape, Workbooks, Young Reader
Tags: Bookset: Reading Starter Pack, Bundles, Kathy Knowles, Promos, Samelia Bawuah
Kathy Knowles is the founder and director of Osu Children's Library Fund. She lives in Canada and returns to Africa twice a year to promote literacy and libraries.
Samelia has always been an avid reader. She has been reading since she was three years old, hence her complete understanding of what young people enjoy reading.
Having had the opportunity to go to school in Ghana, United States of America and Britain, she has had the opportunity to experience other cultures apart from her own. On her numerous travels, she came to the realization that kids all over the world are the same; they have the same dreams and aspirations and picking up a book can transport them just about anywhere they want to go.
Happy Reading with Samelia.