You are previewing:

Kiss That Frog! 12 Great Ways to Turn Negatives into Positives in Your Life and Work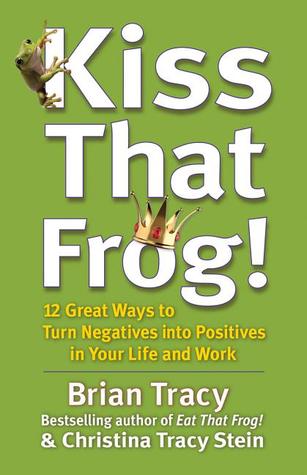 Kiss That Frog! 12 Great Ways to Turn Negatives into Positives in Your Life and Work
Kiss That Frog! 12 Great Ways to Turn Negatives into Positives in Your Life and Work
Just like the lonely princess in the fairy tale who was reluctant to lock lips with a warty frog and transform him into a handsome prince, something stops many of us short of attaining our dreams. Our negative thoughts, emotions, and attitudes can threaten to keep us from achieving all that we're capable of. Here bestselling author and speaker Brian Tracy and his daughter, therapist Christina Tracy Stein, provide a set of practical, proven strategies anyone can use to turn those negative frogs into positive princes.

Tracy and Stein present a step-by-step plan that addresses the root causes of negativity, helps you uncover blocks that have become mental obstacles, and shows how you can transform them into stepping-stones to achieve your fullest potential. The book distills, in an accessible and immediately useful form, what Tracy has presented in more than 5,000 talks and seminars with more than five million people in fifty-eight countries and what Stein has learned through thousands of hours of counseling people from all walks of life.

"There is nothing either good or bad, but thinking makes it so," the authors quote Shakespeare. The many powerful techniques and exercises in this book will help you change your mindset so that you discover something worthwhile in every person and experience, however difficult and challenging they might seem at first. You'll learn how to develop unshakable self-confidence, become your best self, and begin living an extraordinary life.
₵50.00
Only 1 left in stock
Brian Tracy is Chairman and CEO of Brian Tracy International, a company specializing in the training and development of individuals and organizations.
Brian Tracy has consulted for more than 1,000 companies and addressed more than 5,000,000 people in 5,000 talks and seminars throughout the US, Canada and 55 other countries worldwide. As a Keynote speaker and seminar leader, he addresses more than 250,000 people each year.
He has studied, researched, written and spoken for 30 years in the fields of economics, history, business, philosophy and psychology. He is the top selling author of over 45 books that have been translated into dozens of languages.
He has written and produced more than 300 audio and video learning programs, including the worldwide, best-selling Psychology of Achievement, which has been translated into more than 20 languages.
He speaks to corporate and public audiences on the subjects of Personal and Professional Development, including the executives and staff of many of America's largest corporations. His exciting talks and seminars on Leadership, Selling, Self-Esteem, Goals, Strategy, Creativity and Success Psychology bring about immediate changes and long-term results.
Prior to founding his company, Brian Tracy International, Brian was the Chief Operating Officer of a $265 million dollar development company. He has had successful careers in sales and marketing, investments, real estate development and syndication, importation, distribution and management consulting. He has conducted high level consulting assignments with several billion-dollar plus corporations in strategic planning and organizational development.
He has traveled and worked in over 80 countries on six continents, and speaks four languages. Brian is happily married and has four children. He is active in community and national affairs, and is the President of three companies headquartered in Solana Beach, California.