You are previewing:

Beyond the Extra Mile: How to Get Ahead of the Pack, No Matter Your Place, Position or Profession in Life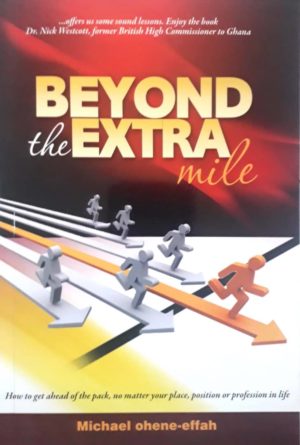 Beyond the Extra Mile: How to Get Ahead of the Pack, No Matter Your Place, Position or Profession in Life
Beyond the Extra Mile: How to Get Ahead of the Pack, No Matter Your Place, Position or Profession in Life
This book will totally transform you, provided you practise the principles therein. After reading it, you are likely to believe that:
You can do more and perform beyond the expected in order to achieve higher levels of success
You can change your personal circumstances and move forward in life through a commitment to change your daily habits
You can move up in life and surpass your peers by being more productive
The cost of reading it is that your life and business will be positively impacted forever.
₵55.00
In stock (can be backordered)
SKU:

BK1610
Categories: African Authors, Author Origin, Business Life, Business, Finance & Law, Career Planning & Job Hunting, Ghana, Leadership, Management & Leadership, Motivational & Self-Help, Organizational Change, Self-Help, Success, Time Management
Tags: Beyond the Extra Mile: How to Get Ahead of the Pack, Michael Ohene-Effah, No Matter Your Place, Position or Profession in Life
The Co-Founder of LeadAfrique International, LeadAfrique PR and Partner of African Synergies and Security and Intelligence Group Ghana(SIG). He is an impact entrepreneur, international development consultant, an author, transformational speaker and trainer. His work has impacted over 30,000 youth across Africa and over 5000 employees across diverse businesses and competency areas – communication, sales and marke3ting development, customer service, report writing, governance, behavior change communication, teambuilding, strategic direction, intercultural awareness and diversity as well as resource mobilization.
Michael has more than 20 years' experience in private sector, diplomatic and international development work, 12 years of which was in senior and strategic management roles. His experience spans 20 years of brand and marketing management, behavior change communications and political and governance functions of three international bodies, USAID, British High Commission the UK's Department for International Development (DFID). He has, in addition, managed brands such as ASHFoam, Starwin Products, Digitronix, PPAG, Pee Cola, Letap Pharmaceuticals, KRIF Ghana Ltd, City Car Parks, Caitec, Delta, and Kumho Tyres. He consults for companies and churches on personal and corporate branding, communications, customer service, business growth strategy and team building.
He has authored 3 books:
- Beyond The Extra Mile
- Why Keep Your Axe Blunt?
- Why Not The Best?