You are previewing:

How to Turn Down a Billion Dollars: The Snapchat Story (Penguin Readers Level 2)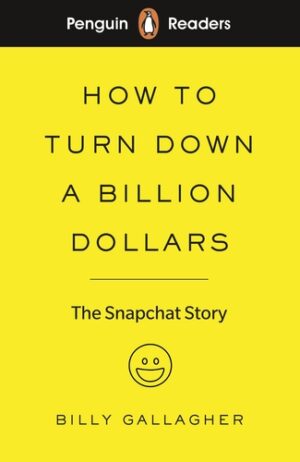 How to Turn Down a Billion Dollars: The Snapchat Story (Penguin Readers Level 2)
How to Turn Down a Billion Dollars: The Snapchat Story (Penguin Readers Level 2)
Age Range: 12 – 17  years
In 2008, Evan Spiegel, Reggie Brown, and Bobby Murphy made a photo app called Snapchat. Just two years later, Facebook wanted to buy Snapchat for $3 billion. This is the story of how Snapchat grew from a university student's idea into a multibillion-dollar company.
Penguin Readers is a series of popular classics, exciting contemporary fiction, and thought-provoking non-fiction written for learners of English as a foreign language. Beautifully illustrated and carefully adapted, the series introduces language learners around the world to the bestselling authors and most compelling content from Penguin Random House. The eight levels of Penguin Readers follow the Common European Framework and include language activities that help readers to develop key skills.
How to Turn Down a Billion Dollars: The Snapchat Story, a Level 2 Reader, is A1+ in the CEFR framework. Sentences contain a maximum of two clauses, introducing the future tenses will and going to, present continuous for future meaning, and comparatives and superlatives. It is well supported by illustrations, which appear on most pages.
₵24.00
Only 2 left in stock
SKU:

BK3694
Categories: 9-12 years, Action & Adventure, Activities, Crafts & Games, Age Range, Animals, Book Sets, Children & Teens, Children Classics, Classics, Education & Teaching, Family, Growing Up & Facts of Life, Illustrated books, Literary Fiction, Literature & Fiction, Short Stories, Short Story Collections, Teens
Tags: Billy Gallagher, How to Turn Down a Billion Dollars: The Snapchat Story (Penguin Readers Level 2), Penguin Readers, Private
Billy Gallagher is an MBA candidate at Stanford's Graduate School of Business. Previously, he was a member of the investment team at Khosla Ventures and a writer at TechCrunch, which he joined as a Stanford sophomore, writing a profile of a popular startup on campus: Snapchat. His writing has appeared in the New York Times and Playboy. He lives in Palo Alto.
Customers Also Bought These