You are previewing:

Nantwie Paka: Ate Praka (Asante Twi)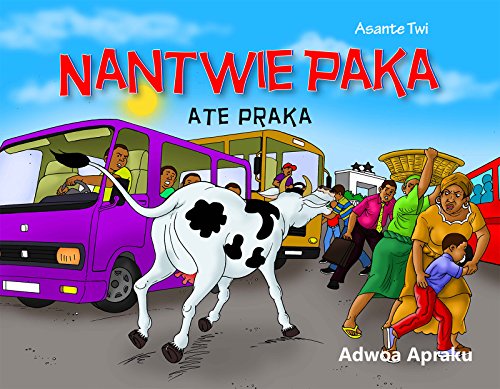 Nantwie Paka: Ate Praka (Asante Twi)
Nantwie Paka: Ate Praka (Asante Twi)
Suitable for children from 6 years and above, learning the Twi language.
Baba Atenga wɔ anantwie du. Ɔpε anantwie du no nyinaa asεm. Awiaberε bi a ɔde anantwie no kɔɔ adidi no, wɔn mu baako tee praka. Na ne din de Nantwie Paka. Ɔte sii kwan mu. Ɔno na ɔrekorɔɔɔɔ no. Ɔkɔɔ mmemea pii. Afei ɔte sii kurom kɔɔ sukuu bi paake so, kokɔɔ mmeammea afoforɔ pii. Anso hɔ ara, ɔkɔɔ lɔre setesan bi nso. Deε na ɔrekɔyε wɔ hɔ deε, ɔno nko ara na ɔnim. Baabiara a ɔkɔeε nso, ɔhe ehu too nnipa a wɔwɔ hɔ no so. Kwan bεn na Baba Atenga faa so hunuu Nantwi Paka de no kɔɔ fie….?
Baba Atenga has ten cows. He is fond of them all. One afternoon, one of the cows breaks loose. This happens when he sends them out to graze. Its name is Paka the cow. It fiercely jumps unto the street and off it goes. It goes through various places, enters a township, moves straight to a school compound, then to other places. Its roaming leads it to the lorry station as well. As to whether it is going to board a lorry, no one knows. Everywhere it goes it creates fear and panic.
How is Paka the cow tamed?
₵15.00
Out of stock
SKU:

BK162
Categories: 9-12 years, African Authors, Age Range, Ages 3-5 years, Ages 6-8 years, Akan, Asante Twi, Author Origin, Children & Teens, Ghana, Illustrated books, Languages
Tags: Adwoa Apraku, Afram Publications, Asante Twi, Nantwi Paka Atew Praka, Twi
The author is a graduate of the University of Education, Winneba and has been the ambassador of the Asante Twi language at the Bureau of Ghana Languages for the past seventeen years. Her schedule at the Bureau of Ghana Languages is to write, edit, proofread and translate documents from English to Twi and vice versa.
In spite of her busy schedule as a career woman and a wife, who has the responsibility of mentoring three lovely children, she still finds time to promote the Asante Twi language through publications like this one.
Customers Also Bought These