You are previewing:

The New Combined Commentary: On the WAEC-Selected Texts for Core Literature (African Poetry, Ananse in the Land of Idiots, No Sweetness Here)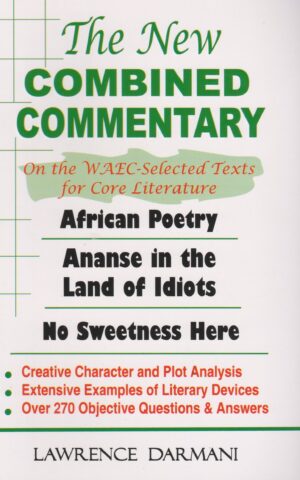 The New Combined Commentary: On the WAEC-Selected Texts for Core Literature (African Poetry, Ananse in the Land of Idiots, No Sweetness Here)
The New Combined Commentary: On the WAEC-Selected Texts for Core Literature (African Poetry, Ananse in the Land of Idiots, No Sweetness Here)
This New Combined Commentary is a well-prepared students' companion for the study of WAEC's prescribed texts for Core Literature. The contents are sharp, detailed, and full of important literary nuggets to benefit students.
Creative summaries of the stories
Lively character and plot analysis
Character identification for each story
How to identify literary devices
Poetry understanding and appreciation
Line-by-line commentary on the poems
Meanings of difficult words and phrases
Elements of short prose and drama
Understanding the drama movements
How to answer literary questions
Over 270 Objective Questions & Answers
₵14.00
Only 1 left in stock
SKU:

BK4599
Categories: Activities, Crafts & Games, Activity book, African Authors, Author Origin, Basic Concepts, Book Sets, Children & Teens, Early Childhood Education, Education & Teaching, English Language, Ghana, JHS Textbooks, Language Instruction, Languages, Teens, Textbooks, Workbooks
Tags: Ananse in the Land of Idiots, english text book for shs, English Textbook, English Textbooks, Essential English for WASSCE, Lawrence Darmani, No Sweetness Here), Senior High School, SHS, Step Publishers, Textbook, Textbooks, The New Combined Commentary: On the WAEC-Selected Texts for Core Literature (African Poetry, Workbook
Lawrence Darmani is a Ghanaian novelist and publisher. His first novel, Grief Child, won the Commonwealth Writers' Prize as best first book from Africa. He is editor of Step magazine, and CEO of Step Publishers. He also writes devotional articles for Our Daily Bread, which touches the lives of many Christians around the world.
He is married and lives in Accra with his family. Lawrence enjoys church life and volunteers at other Christian ministry activities. He says that he derives writing ideas "out of personal experiences, reading, testimonies, and observing the world around me."
Customers Also Bought These