You are previewing:

Chosen From Darkness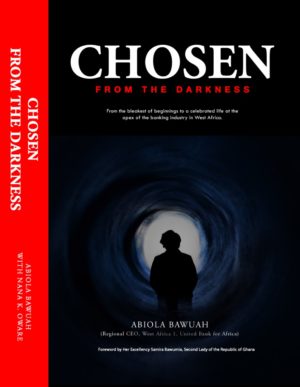 Chosen From Darkness
Chosen From Darkness
…From the bleakest of beginnings to a celebrated life at the apex of the banking industry in West Africa
Out of Africa comes this fascinating story of a female CEO rising from a background of stark illiteracy. Her journey was supposed to be marked by a lack of formal education – and an arranged marriage on the horizon by the time she grew into her teens. Through tremendous personal and family trials and despite powerful communal pressures, she would progress to get a university degree and begin a career. This rare and intimate look into the life of this award-winning CEO will take you on a compelling, engrossing, twisted and exciting adventure in the life of a woman who has risen from the most unlikely and disadvantaged of backgrounds.
Coming from a polygamous, multi-religious, deeply traditional background, leadership and tough responsibilities were foisted on her at an early age. Her job-hunting struggles are themselves interesting stories of disappointments, impediments, and determination. She has struggled, clawed and survived some of the most crushing of setbacks to emerge bold, brave and poised. With rare candidness and written with a refreshing style, this book will take you on an absorbing journey of adversity, hope, and faith. It's a stunning memoir of an uncommon kind.
Proceeds from the sale of this book all go to the Abiola Bawuah Foundation, a non-profit which provides scholarships and other tools to empower young girls in Ghana.
₵45.00
Only 1 left in stock
SKU:

BK1768
Categories: African Authors, African History, Author Origin, Biographies & Memoirs, Business Culture, Business Life, Business, Finance & Law, Career, Ghana, History, Industries, Leaders & Notable People, Motivational & Self-Help, Professionals & Academics, Self-Help, Small Business & Entrepreneurship, Success, West African History, Women & Business, Women in History
Tags: Abiola Bawuah, Chosen From Darkness
Mrs. Marufatu Abiola Bawuah has enormous experience in retail banking and marketing. She holds a BSc. In Actuarial Science from the University of Lagos, Nigeria, an LLB with honours from the University of London, a Diploma in Marketing from GIMPA and an MBA (Finance) from the University of Ghana. She also has numerous leadership qualifications from Harvard Business School, Columbia University in the City of New York, INSEAD and Institut Villa Pierrefeu in Switzerland. At the 2016 Chartered Institute of Marketing Ghana Awards, she was adjudged the 'CIMG Marketing Woman of the Year' and subsequently went on to win the 'Finance Personality of the Year Award' at the Ghana Accountancy and Finance Awards barely two months after. Mrs. Bawuah is part of the 'Woman Rising' inspiring list of the Top 50 Women Corporate Leaders in Ghana. Again, at the 2016 CFO Awards, she was adjudged 'Woman of Excellence in Finance'. In 2017 she was crowned 'Female Expatriate CEO of the Year' by the Millennium Excellence Foundation for her hard work, achievements, and contributions to Ghana. Mrs. Abiola Bawuah is the Regional CEO West Africa 1 of the United Bank for Africa (UBA).