You are previewing:

Africa's Little Kings and Queens: Complete Collection (6 books)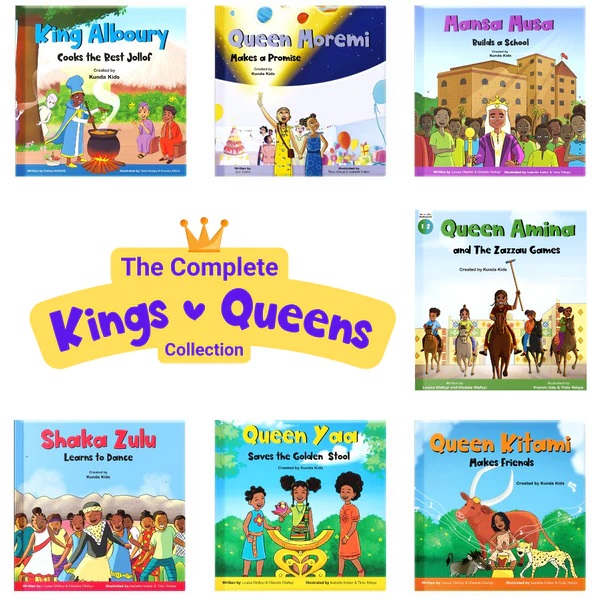 Africa's Little Kings and Queens: Complete Collection (6 books)
Sale!
Africa's Little Kings and Queens: Complete Collection (6 books)
Age Range: 3 – 8 years
Africa's Little Kings & Queens is a collection of seven beautifully illustrated picture books inspired by ancient Africa's most influential leaders.
Perfect for introducing the next generation of young leaders, thinkers, and game-changers to Africa's great history.
These books are suitable for children between ages 3 – 8 years, they are perfect for reading to little-ones and great for those learning to read independently.
These stories bring diversity to children's literature in a fun and exciting way through beautifully illustrated picture books that illuminate black history.
The full collection includes 7 children's picture books:
Queen Amina and The Zazzau Games (NEW)
King Alboury Cooks the Best Jollof

Queen Moremi Makes a Promise

Mansa Musa Builds A School

Queen Yaa Saves the Golden Stool

Shaka Zulu Learns to Dance

Queen Kitami Makes Friends
A must-have for every child's library and an excellent gift for several occasions including: birthdays, Christmas, World Book Day, Black History Month and Kwanzaa.
Beautifully illustrated artwork

Teaches the importance of kindness and generosity

Celebrates black history and culture

Great for story time at home and in school

Loved by parents and teachers
Written by Louisa Olafuyi (Ugandan), Oladele Olafuyi (Nigerian), Sokhna Ndiaye (Senegalese) and Ayo Oyeku (Nigerian)

Edited by children's book editor and novelist Krystle Appiah (Ghanaian)

Artwork by Nigerian Illustrators Isabelle Irabor, Tiolu Yoloye and Francis Ude
₵390.00
Only 2 left in stock
SKU:

BS75
Categories: African Anthropology, African Authors, African Biographies, African History, Age Range, Ages 3-5 years, Ages 6-8 years, Author Origin, Biographies, Biographies & Memoirs, Children & Teens, Cultural Studies, Educators, Geography & Cultures, Historical, History, Leaders & Notable People, Leadership, Literature & Fiction, Nation building, Nigeria, Politics & Government, Politics & Social Sciences, Professionals & Academics, Promos & Bundles, Religious Leaders, Traditional Rulers, West African History, Women in History
Tags: Africa's Little Kings & Queens, Africans, Bundles, Francis Ude, Ghanaians, History, Isabelle Irabor, Krystle Appiah, Kunda Kids, Louisa Olafuyi, Malians, Mansa Musa Builds a School, Nigerians, Oladele Olafuyi, Pioneers, Promo, Promos, Queen Kitami Makes Friends, Queen Yaa Saves the Golden Stool, Shaka Zulu Learns to Dance, South Africans, Tiolu Yoloye
Customers Also Bought These