You are previewing:

Who Will Cry When You Die?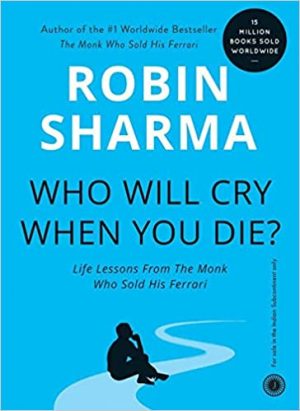 Who Will Cry When You Die?
Who Will Cry When You Die?
Life Lessons From The Monk Who Sold His Ferrari
Do You Feel that life is slipping by so fast that you might never get the chance to live with the meaning, happiness and joy you know you deserve? If so, then this book will be the guiding light that leads you to a brilliant new way of living.
In this easy-to-read yet wisdom-rich manual, the author offers 101 simple solutions to life's most complex problems, ranging from a little-known method for beating stress and worry to a powerful way to enjoy the journey while you create a legacy that lasts.
"When You Were Born, You Cried While The World Rejoiced. Live Your Life In Such A Way That When You Die, The World Cries While You Rejoice."
Ancient Sanskrit Saying
Robin Sharma is one of the world's premier speakers on Leadership and Personal Mastery, recently named one of the World's Top Leadership Gurus. As a presenter, Sharma has the rare ability to electrify an audience yet deliver uncommonly original and useful insights that lead to individuals doing their best work, teams providing superb results and organizations becoming unbeatable.
For nearly 20 years, many of the most well-known organizations on the planet, ranging from Nike, GE, Microsoft, FedEx, PwC, HP and Oracle to NASA, Yale University and YPO have chosen Robin Sharma for their most important events, when nothing less than a world-class speaker will do.
Sharma's books such as The Leader Who Had No Title have topped bestseller lists internationally and his social media posts reach over six hundred million people a year, making him a true global phenomenon for helping people do brilliant work, thrive amid change and realize their highest leadership capacities within the organization so that personal responsibility, productivity, ingenuity and mastery soars.
Sharma has been ranked as one of the Top 5 Leadership Gurus in the World in an independent survey of over 22,000 businesspeople and appears on platforms with other luminaries such as Richard Branson, Bill Clinton, Jack Welch and Shaquille O'Neill.