You are previewing:

White Fang (Penguin Readers Level 6)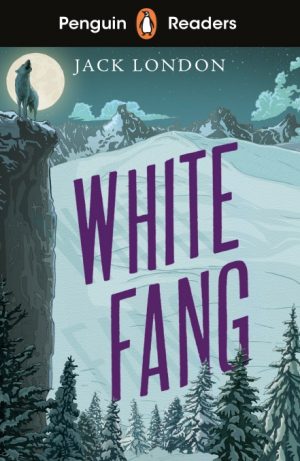 White Fang (Penguin Readers Level 6)
Related Products
Customers Also Bought These
White Fang (Penguin Readers Level 6)
Age Range: 12 – 17  years
The world is a wonderful place to a brave wolf cub, as his mother teaches him all about nature. But then he meets humans. They call him White Fang, and take him away from the wild. Can he learn their ways to survive, and at what cost to himself?
Penguin Readers is a series of popular classics, exciting contemporary fiction, and thought-provoking non-fiction written for learners of English as a foreign language. Beautifully illustrated and carefully adapted, the series introduces language learners around the world to the bestselling authors and most compelling content from Penguin Random House. The eight levels of Penguin Readers follow the Common European Framework and include language activities that help readers to develop key skills.
White Fang, a Level 6 Reader, is B1+ in the CEFR framework. The longer text is made up of sentences with up to four clauses, introducing future continuous, reported questions, third conditional, was going to and ellipsis. A small number of illustrations support the text.
₵28.00
Out of stock
SKU:

BK5042
Categories: 9-12 years, Action & Adventure, Activities, Crafts & Games, Age Range, Animals, Book Sets, Children & Teens, Children Classics, Classics, Education & Teaching, Family, Growing Up & Facts of Life, Illustrated books, Literary Fiction, Literature & Fiction, Short Stories, Short Story Collections, Teens
Tags: Jack London, Penguin Readers, White Fang (Penguin Readers Level 6)
Born in San Francisco, Jack London (1876-1916) shoveled coal, pirated oysters, sailed with a sealing schooner, and worked in a cannery as a youth. In 1897, London traveled to the Yukon to join the Klondike gold rush, an experience that inspired many of his later works. Best known for The Call of the Wild (1903), he wrote and published more than fifty volumes of essays, novels, and short stories, and was one of the most popular authors of his era.
Customers Also Bought These