You are previewing:

Yennenga: The Dagomba Princess (Paperback)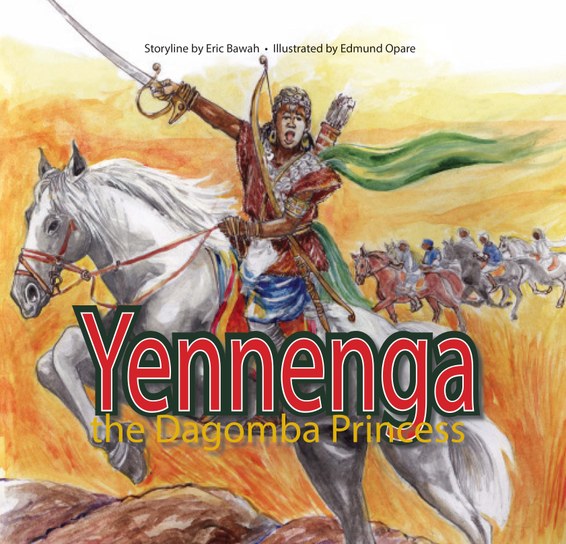 Yennenga: The Dagomba Princess (Paperback)
Yennenga: The Dagomba Princess (Paperback)
Age Range: 7 – 12 years
Yennenga was very atheletic and she learnt to shoot arrows, and throw spears. She also learnt the art of horse riding. Her father gave her a special stallion called Ouedrago. At age fourteen she was a very skillful horse rider and an adept javelin thrower. Her father therefore took her to battles. She was a very good warrior! Her father became very proud of her and, in fact, made her a battalion commander. At fourteen years of age, Yennenga started helping her father in battles. Because of her skill in battle, her father refused to give her away in marriage. Yennenga loved fighting for her father in war but she also yearned to be a married woman and have children of her own. However, her father refused to give her away to any of the many suitors who sought her hand in marriage.
₵30.00
Only 1 left in stock (can be backordered)
SKU:

BK2205
Categories: 9-12 years, Action & Adventure, African Authors, Age Range, Ages 6-8 years, Author Origin, Children & Teens, Fairy Tales & Folklore, Ghana, Illustrated books, Literature & Fiction
Tags: Edmund Opare, Eric Bawah, Yennenga: The Dagomba Princess
Edmund Opare is one of the most renowned and experienced illustrators in Ghana. With a degree in Graphic Design from the Kwame Nkrumah University of Science and Technology he has spent his entire life as a full time illustrator. He has worked with a lot of reputable organisations as a freelance illustrator in Ghana and parts of West Africa. He lives in Accra with his family and enjoys painting with watercolour.