You are previewing:

The Path of an Eagle – Despair, Hope and Glory: Autobiography of Daniel McKorley (McDan)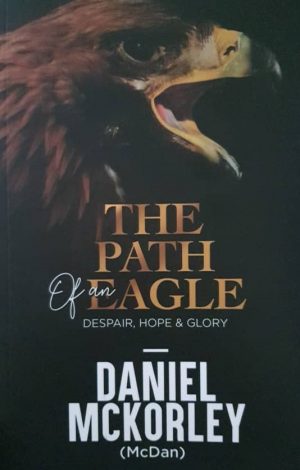 The Path of an Eagle – Despair, Hope and Glory: Autobiography of Daniel McKorley (McDan)
| | |
| --- | --- |
| Weight | 0.6 kg |
| ISBN | 9789988318499 |
| Year Published | 2021 |
| Pages | 270 |
| Format | Paperback |
| Author | Daniel McKorley |
Related Products
Customers Also Bought These
The Path of an Eagle – Despair, Hope and Glory: Autobiography of Daniel McKorley (McDan)
Daniel McKorley's autobiography offers a powerful yet gripping insight into the life of the author and, for the first time, enables a window into his total life experiences, the summation of which the public knows.
Having taken his time to detail his life story, the book offers a step-by-step account of his life and how the various experiences of his upbringing have shaped his current station and situation in life. His is a life of contrasts in which his successes in business and professional life sharply contrast with his life of poverty growing up.
The overall structure of the book and the sequencing of the chapters makes for easy and enjoyable reading, and the everyday realities recounted in his words should both evoke empathy and identity in the reader. If the title of the book insinuates comparisons with the eagle and its ways, it is because the author mimics the bird in its tendencies and has charted his life to reflect the fortunes of an eagle – a fitting simile given that the author's name means "an eagle" in his native Ga tribe of Ghana.
This book is an enchanting piece worth every reader's time.
₵140.00
In stock (can be backordered)
SKU:

BK346
Categories: African Authors, African Biographies, African History, Agriculture, Author Origin, Best Seller, Biographies & Memoirs, Business Culture, Business Life, Business Professionals, Business, Finance & Law, Career, Elections & Political Process, Ghana, Historical, History, Industrialists, Industries, Labor & Industrial Relations, Leaders & Notable People, Leadership, Management & Leadership, Manufacturing, Nation building, Political Advocacy, Politicians, Politics & Government, Politics & Social Sciences, Politics & State, Processes & Infrastructure, Professionals & Academics, Small Business & Entrepreneurship, West African History
Tags: Association of Ghanaian Industries, Daniel McKorley, DigiBooks Ghana Ltd, Ghana, Hope and Glory, Industry, McDan, The Path of an Eagle – Despair
| | |
| --- | --- |
| Weight | 0.6 kg |
| ISBN | 9789988318499 |
| Year Published | 2021 |
| Pages | 270 |
| Format | Paperback |
| Author | Daniel McKorley |
Customers Also Bought These