You are previewing:

The Bicycle Thief (Hardy Boys, The Secret Files #6)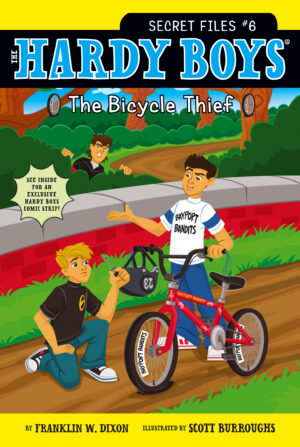 The Bicycle Thief (Hardy Boys, The Secret Files #6)
The Bicycle Thief (Hardy Boys, The Secret Files #6)
Age Range: 6 – 12 years
It's time for the annual Junior Bike Race in Bayport, and Frank and Joe are the top contenders. Midway through the race, Frank runs over a nail and blows a tire. It seems as if the day couldn't get worse–until Frank's bicycle goes missing!
Bayport's leading bully, Adam Ackerman, seems to be the prime suspect. But when he proves that he wasn't the bicycle thief, everyone turns out to be a potential culprit–even Mr. Mack's dog, Lucy! Can Frank and Joe crack the case and bring Frank's bicycle home?
₵40.00
Out of stock
SKU:

BK4101
Categories: 9-12 years, Action & Adventure, Age Range, Ages 6-8 years, Author Origin, Book Sets, Children & Teens, Children Classics, Illustrated books, Literary Fiction, Literature & Fiction, Mysteries & Detective Stories, US/Canadian Authors, Young Reader
Tags: Franklin W Dixon, Hardy Boys, The Bicycle Thief, The Secret Files
Franklin W. Dixon is the pen name used by a variety of different authors (Leslie McFarlane, a Canadian author, being the first) who wrote The Hardy Boys novels for the Stratemeyer Syndicate (now owned by Simon & Schuster). This pseudonym was also used for the Ted Scott Flying Stories series.
Customers Also Bought These