You are previewing:

Sunset at Noon (Pacesetters)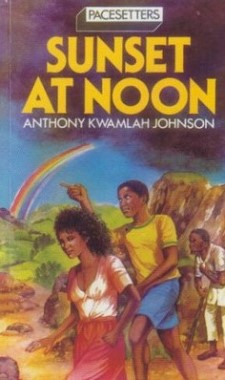 Sunset at Noon (Pacesetters)
Related Products
Customers Also Bought These
Sunset at Noon (Pacesetters)
Thula is bitterly disappointed when his father compels him to leave school and become herd boy of the family's cattle. However, a chance encounter with an old man living in an isolated hut on the hills gives him renewed hope. Knowing he is near to death, the old man tells Thula of a secret hoard of diamonds he has hidden, beneath a cactus grove.
Thula determines to recover the diamonds, to sell them and use the money to further his own education and better his family's lifestyle. But he has not reckoned with the beautiful and cruel Lindiwe who, learning of the diamonds, decides to take them for herself by fair means or foul.
₵60.00
Out of stock
SKU:

BK6350
Categories: 9-12 years, African Authors, African Novels, Age Range, Author Origin, Best Seller, Children & Teens, Classics, Contemporary Fiction, Ghana, Literary Fiction, Literature & Fiction, Novels, Teens, Young Adult Fiction, Young Reader
Tags: A Fresh Start, A. Mhlope, Agbo Areo, Agony in Her Voice, Andrew Sesinyi, Anthony Kwamlah Johnson, Barbara Kimenye, Ben Mtobwa, Bittersweet, Bonds of Love, Chuma Nwokolo, Circle of Betrayal, Classics, Damian Asabuhi, Danger Express, Dangerous Inheritance, David G. Maillu, David Msere, Dead Of Night, Dede Kamkondo, Finding Francis, For Better For Worse, Forever Yours, Forgive Me Maryam, Give Me Money, Gladstone Meena, Helen Ovbiagele, Hope Dube, James Irungu, James Shimanyula, Kalu Okpi, Kenneth Rowley, Kwasi Koranteng, love, Love on the Rocks, Love's Dilemma, Maurice Sotabinda, Mohammed Sule, Mohmed Tukur Garba, Moses and the Gunman, Omondi Mak'oloo, On The Road, Operation Rhino, Pacesetters, Pacesetters titles, Pains of a Maid, Philip Phil-Ebosie, Remember Death, Richard Anieke, Rita Wooding, Sam A. Adewoye, Sarah Mkhonza, Second-hand Love, Shameful Sacrifice, Small Affairs, Sunset at Noon, Sweet Revenge, The Betrayer, The Camera Never Lies, The Delinquent, The Extortionist, The Gun Merchant, The Hopeful Lovers, The Last Aloe, The Runaway Bride, The Worshippers, Thorns of Life, Too Young to Die, Truth will Out, Victor A. Ulojiofor, Victor Thorpe, Walije Gondwe, What The Future Holds, Yema Lucilda Hunter
Anthony Kwamlah Johnson is a writer of children's and young adults' novels. His books have been published by Macmillan, UK and South Africa. Mr Johnson has won many international writing competitions. His book 'Bamboo Girl' won 1st prize, Macmillan Writers Prize for Africa.
Mr Johnson taught at the Department of English Education, University of Education, Winneba for many years. Currently, he teaches part time at the Institute of Distance and e-Learning, University of Education, Winneba, Ghana. His hobbies are astronomy and abstract art.
Customers Also Bought These